New alloy that balances durability and degradation is ideal material for medical devices that alleviate atherosclerosis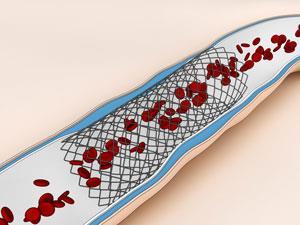 Scientists in the US and China have developed
a biodegradable alloy for use in medical implants
. The new alloy, called JDBM, mixes magnesium, neodymium, zinc and zirconium. JDBM degrades uniformly in physiological conditions so further surgery to remove implants made from it would not be necessary.
Atherosclerosis is a precursor to heart disease and occurs when artery walls thicken from cholesterol build-up. Surgical atherosclerosis treatment uses a mesh tube called a stent to restore blood flow in blocked blood vessels. While most currently used stents are non-degradable and require further surgery to remove them, stents made from JDBM by the teams of Rong Fan at Yale University and Guanyin Yuan at Shanghai Jiaotong University will degrade in the body so won't need to be removed.
Biodegradable stents are not a new idea. However, alloys previously explored for such stents were found to degrade too quickly and in a non-uniform manner.
Fan initially considered engraving nanoscale patterns on the surface of stent materials to change their degradation process and lifetime. Then the team started working with the JDBM alloy. 'The biodegradation rate [of JDBM] was markedly reduced and the surface naturally became nano-engraved – we call it nanophasic degradation – which is exciting and indicates that our initial thought was probably right,' says Fan. The JDBM alloy will eventually dissolve completely in physiological environments and can be metabolised and absorbed by the body.
'This is indeed an interesting study with some promising results' says Barry O'Brien, a biodegradable medical implants expert at the National University of Ireland in Galway. 'Many degradable devices show localised corrosion – this can lead to complete failure of the device. A device that degrades uniformly will likely retain overall integrity for longer.'
The JDBM stents underwent 16 week long tests in rabbits and were found to maintain their structure over this time. O'Brien says the stents need to be tested for longer to better establish their efficacy. 'I'm sure the investigators are aware of this, so I wish them well in the continuation of their work.'
Further work from the group will focus on surface modification of the alloy to fine tune its degradation rate and improve its biocompatibility.