Hand-held device affixed to a smart phone checks albumin levels in urine samples then records results on an app
A smart phone attachment and accompanying app that could be used by people in their own home to monitor the health of their kidneys have been developed by scientists in the US. The lightweight and cost-effective device contains a fluorescent assay which works with the phone's existing camera to provide results within minutes.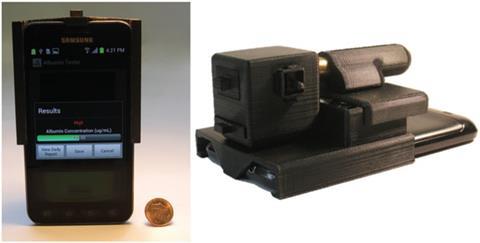 Millions of people die each year from chronic kidney disease with 11% of US adults thought to have some form of kidney-related problem. Early detection and treatment is the key to prevent or control kidney damage. Routine screening for kidney damage checks albumin levels in urine with high levels of the protein indicating a potential problem. These tests are currently carried out using bench-top urine analysers and require patients to make regular trips to a clinic or hospital.
The Albumin Tester, a digital fluorescent tube reader accompanied by an android smart phone app devised by Aydogan Ozcan and colleagues at the University of California in Los Angeles could save patients from having to make so many of these trips. Weighing only 148 g, a similar weight to the smart phone itself, the whole device can be attached to the back of a smart phone. Urine is added to fluorescent assays confined within disposable test tubes and the smart phone's camera collects images of the assays via an external plastic lens. The app converts the fluorescence signals into an albumin concentration value within 1 second. Its detection limit of 5–10 µg ml-1 is more than 3 times lower that the clinically accepted healthy threshold.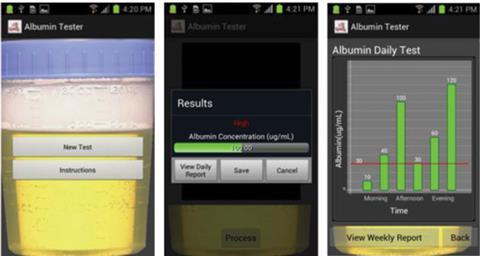 Ozcan envisions the device's application in 'the early diagnosis of kidney disease or for routine monitoring of high-risk patients, especially those suffering from chronic conditions such as diabetes, hypertension, and/or cardiovascular diseases.' Govind Kaigala, who develops microsystems for biomolecule analysis at IBM Research in Switzerland agrees and says 'the albumin tester is a gadget which holds the promise of a simple, rapid and low-cost test for regular use by the patient.'
'This technology has the potential to make widespread impact on health care in developing as well as developed countries,' says Olav Solgaard, an expert in optical microelectromechanical systems at Stanford University in the US.
Ozcan anticipates that their next step is to make it possible to measure other kidney disease biomarkers, such as creatinine, using the same smart phone attachment.