First US regulatory approval for plant-derived drug developed by Dow AgroSciences.
Dow AgroSciences has become the first biotech firm to gain US regulatory approval for a plant-derived drug.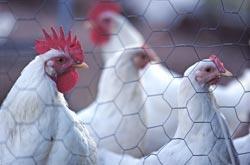 At the end of January 2006, the US Department of Agriculture's Center for Veterinary Biologics approved a vaccine for protecting chickens against Newcastle disease virus (NDV), which is manufactured using Dow AgroSciences' concert plant-cell-produced system.
The company claims it will be able to manufacture many other vaccines, for animal and human diseases, using its plant-based production technology.
Unlike biotech firms that produce vaccines in whole plants, which have come up against a whole host of regulatory and environmental concerns, the Dow system uses plant cells grown in secure bioreactors. These cells are genetically modified to produce a specific viral antigen, which is extracted from the cells after they have been harvested from the bioreactor.
The haemagglutinin neuraminidase protein from NDV forms the basis of the current vaccine, but the company has used its Concert system to produce three other protein antigens. These include the haemagglutinin protein from the avian influenza virus, opening up the possibility that the system could be used to manufacture a vaccine for bird flu.
Because the vaccine is based on a single viral protein, which can generate an immune response but can't cause an infection, Dow says it should be safer than vaccines produced using more conventional methods, such as those based on viruses that have been killed.
Jurgen Denecke, a reader in plant cell biotechnology at Leeds University, UK, says using plant cells in bioreactors is a good idea and likely to be more popular than growing drug-producing plants in fields. 'It has a great future,' Denecke told Chemistry World, 'but we will have to see how well they can produce the protein, what the yield is, and how they dispose of the waste.'
Jon Evans