High street sales of Viagra fuel marketing controversy.
From today, men in the UK will be able to buy Viagra from their pharmacist without a doctor's prescription. But the trial run of the scheme has fanned the flames of a controversy about how US drug company Pfizer markets the impotence drug.
The US Aids Healthcare Foundation (AHF) filed a lawsuit in Los Angeles Superior Court in January 2007 against Pfizer for what it claims to be irresponsible advertising of the drug. AHF accuses Pfizer of promoting Viagra as a recreational drug, and holds the company responsible for an increase in transmission of the HIV infection among homosexual men who use the drug as part of a 'party cocktail' containing the psychostimulant crystal methamphetamine (crystal meth), an increasingly popular club drug.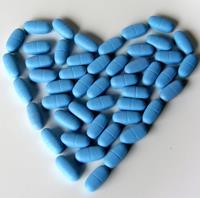 Laura Boudreau, a lawyer for AHF, claims that Pfizer's ad campaigns had significantly contributed to 'risky behaviour' that had caused a jump in HIV transmission in this group of men. 'Crystal meth increases sexual desire, but also makes men impotent, and we have seen an increasing number of men using it in combination with Viagra,' Boudreau told Chemistry World. AHF is the largest AIDS healthcare, prevention and education provider in the United States.
AHF's complaint focuses on advertisements featuring young men at parties, with slogans such as 'what are you doing New Year's Eve?' 'Pfizer have deliberately advertised Viagra to consumers as an aphrodisiac,' Boudreau said. Pfizer have released a statement strongly denying AHF's claims regarding their advertising campaigns and reinforcing their commitment to 'safe and appropriate use of Viagra'.

Trial run
Meanwhile, the high street pharmacy company Boots has started selling Viagra without prescription in three stores in Manchester. It is the first time that Viagra has been available without a doctor's prescription in the UK.
Boots pharmacists will distribute the drug using a document called a patient group direction, which - under a 2003 amendment to the UK Health Standards Act - empowers staff other than doctors to provide the drug legally.
Men between the ages of 30 and 65 who want to buy the drug will have a consultation with a pharmacist, provide a medical history, and have blood pressure, cholesterol and glucose tests. After being sold an initial pack of four tablets, patients must see a private doctor, provided by Boots, before they can buy more of the pills.
According to Boots, this trial is an effort to improve access to treatment for men with erectile dysfunction. The high street chemist estimates that only 10 per cent of the three million men who suffer with erectile dysfunction in the UK are currently being treated. If this trial is successful, the drug will be made available in stores nationwide. The company did not wish to comment on the AHF lawsuit, but a spokesperson from Boots pointed out that 14 February is National Impotence Day, and that any link between the Viagra launch and Valentine's Day was 'purely coincidental'.
'Boots has been developing this programme for over two years and we have consulted senior medical personnel, an external panel of medical experts and patient groups,' said Boots medical director Graham Marshall. 'We have developed training and a protocol to enable us to offer this service from our pharmacy.'
But the AHF has condemned the move - in particular the association with Valentine's Day - as an ill-judged marketing scheme. 'It is irresponsible to be selling this drug over the counter,' said Boudreau. 'It is a drug for a serious medical condition that has side effects and should be prescribed by a doctor. Although this may not directly be Pfizer's campaign, it is yet another promotion of its drug as an aphrodisiac or party drug.' Pfizer did not respond within 24 hours to specific inquiries about Boots' sales of Viagra.

Victoria Gill