The UK's science budget has been frozen until 2014 and higher education funding will bear the brunt of deep departmental spending cuts
The UK's science budget will suffer a 10 per cent cut in real terms over the next four years and higher education has been hit hard in the government's public spending review announced today.
After recent fears that the science budget could be cut by up to 25 per cent, a tide of cautious relief has spread through the UK's scientific community as chancellor George Osborne announced this afternoon that science spending will be frozen at ?4.6 billion a year through to 2014/15.
In practice, this will mean will mean real terms cuts of around 10 per cent, a better outcome than most had feared. Further efficiency savings of ?324 million will be made within the science budget, although details of how were not given.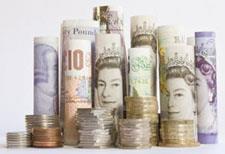 'A flat cash settlement is the best one could have hoped for, but it is a real terms cut from a starting level of spending that's already not high by international standards,' says Richard Jones, pro-vice chancellor for research and innovation at Sheffield University, UK. 'But that ring fence is really important because it means you can plan for the future.'
Science funding is covered by the Department of Business, Innovation and Skills (BIS), whose budget will be cut by an average of 7.1 per cent each year through to 2014/15. With the science budget protected, higher education funding (also covered by BIS) is taking a significant hit - a 40 per cent reduction from ?7.1 billion to ?4.2 billion by 2014/15. Higher and further education funding combined will be reformed to deliver around 65 per cent of resource savings in the department as a whole.
Osborne today said that universities were 'the jewel in our economic crown' but that funding mechanisms needed to be overhauled. Significant increases to university tuition fees were proposed last week in the Browne review and an official response to the recommendations is due in the coming weeks, but the cuts to teaching budgets announced today mean departments will be heavily reliant on attracting students willing to pay higher rates for the courses they offer.
'One would hope that quality of teaching and the student experience will have a positive impact and the students will still come and will pay the higher fees,' says Geoff Cloke of the University of Sussex's chemistry department. 'But the cuts are likely to have a serious impact on recruitment and retention of post-graduate students who are the engine for the generation of new science and technology. Universities might be "the jewel in our economic crown" - but it seems like the students are going to be expected to pay for the diamonds.'
Jones emphasises that although the science budget is ring fenced, university research is carried out in science departments that have a 'mixed economy', relying on funds from teaching and science budgets. 'The very large cuts in teaching budgets that we're anticipating are going to be very destabilising, and we don't know how that's going to affect science departments,' he says.
'There's a big question about how many universities with chemistry departments believe they can recruit students at the sort of level that they would need to charge fees that would replace the loss of public funding,' says Paul Cottrell, national head of public policy at the Universities and College Union. 'Some departments or institutions are just not going to be able to survive in that market place.'
He adds: 'We didn't think that the government would essentially go for wholesale privatisation of higher education which is essentially the plan. We're very worried about the whole picture that being presented as the future of higher education.'
Further details on departmental savings are expected in the coming weeks.
Anna Lewcock
Little change for industry
In the area of pharmaceuticals, Osborne said a cancer drugs fund of up to ?200 million per year would be created to help with the issues of an ageing population and rising healthcare costs.
Elsewhere, green issues came to the fore. A UK green investment bank would be set up with an initial state contribution of ?1 billion, Osborne said. The government will also invest up to ?1 billion to create a commercial scale carbon capture and storage demonstration plant.
Ahead of the review, the UK Chemical Industries Association (CIA) petitioned the government not to swap public sector cuts for increases in tax paid by businesses and restore public expenditure to about 40 per cent of GDP.
There was no further mention of the patent box, introduced in December 2009 by the previous administration and retained by Osborne in the June budget. This will from 2013 reduce the rate of tax paid on income generated from patents to 10 per cent - a move welcomed in particular by the pharmaceutical sector. There was also no further mention of corporation tax, which will be cut from 28 per cent to 24 per cent over four years from 2011.
'Today's news demonstrates that the government understands the importance of research and innovation in securing the UK's economic recovery,' said Nigel Gaymond, chief executive of the BioIndustry Association. 'A real-terms cut still poses significant challenges, but we acknowledge the commitment of Ministers to ensuring a stable scientific research base.'
CIA chief executive Steve Elliott said that the ?250 million per year boost to adult apprenticeships, to supply up to 75,000 extra apprenticeship places, provided 'a much needed stimulus to the critical technical skill requirements faced by many within manufacturing'.
Andrew Turley