Woven tin dioxide used to make flexible photodetectors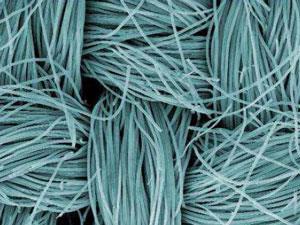 Chinese scientists have made
compact, self-powering, bendable photodetectors from tin dioxide cloth
.
Flexible electronics are an exciting area of research with foldable displays and wearable electronics being potential uses. Self-contained power generation complements flexibility by removing the need for bulky external power supplies to make smaller devices more feasible.
Guozhen Shen from the Chinese Academy of Sciences, and co-workers at the Wuhan National Laboratory for Optoelectronics, have made tin dioxide cloth by growing tin dioxide nanoparticles on a carbon cloth template to give hollow microtubes of tin dioxide in a woven pattern. Tin dioxide is a wide band gap semi-conductor that has high quantum efficiency in the UV region, making it a good material for both battery electrodes and light sensing. Shen's team integrated a tin dioxide cloth-based UV photodetector and a tin dioxide cloth-based lithium-ion battery into one device to form a flexible, self-powering photodetector that can be trimmed to match any shape. The detector's performance is comparable to conventional devices and, importantly, no change in performance occurs when the cloth is folded.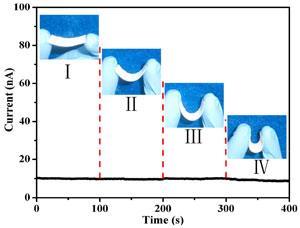 Shen says that fabricating large areas of cloth that retain a consistent woven structure was initially challenging, however, by growing a dense layer of nanoparticles on the template a well-defined structure could be reliably formed. He is pleased that the resulting device 'is a very simple system possessing advantages of adjustable size and portability.'
Jia Huang of Tongji University, China, an established researcher in the field of materials chemistry and electronics, is impressed by this low cost approach to fabricating flexible electronic devices which have 'unique applications in foldable, stretchable and wearable electronic systems.' However, he warns that optimising the mechanical durability of the cloth will be important when developing these devices in the future.
Shen and colleagues plan to develop even smaller and neater devices from this prototype to suit a wide range of applications.