Cheap nickel catalysis offers alternative to expensive enzymatic resolution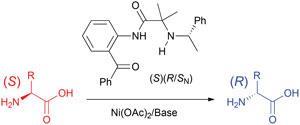 An international team of scientists has
developed a purely chemical approach to interconvert L- and D-amino acids
. This method could rival enzymatic routes used in industry, and enable cheaper production of some pharmaceuticals.
While L-amino acids are an inexpensive and renewable source of chiral molecules, used by all cells to synthesise proteins, D-amino acids are scarce in nature and consequently more expensive. Despite their rarity in biological systems, D-amino acids are widely used in the pharmaceutical industry, occurring in many drugs, including antibiotics such as penicillin and anticancer agents such as goserelin.
Currently, D-amino acids are prepared industrially by enzymatically resolving racemic mixtures of amino acids. A readily available source of D-amino acids would obviate the need for resolution, simplifying synthetic routes to many pharmaceuticals.
Vadim Soloshonok, Ikerbasque Research Professor at the University of the Basque Country, Spain, and his colleagues, used inexpensive nickel(II) acetate and a modularly designed chiral ligand derived from a-(phenyl)ethylamine to transform natural amino acids into their unnatural enantiomers. A Ni(II) amino acid Schiff base complex with three stereogenic centres, including a stereogenic nitrogen, was formed under mild and operationally simple reaction conditions. The complex enables the stereocontrolled deprotonation of the a-carbon of amino acids to invert their stereochemistry.
Soloshonok says that this methodology could have a potentially huge impact on the multi-billion dollar amino acid market. 'D-amino acids are starting materials in the synthesis of pharmaceutical drugs and if we can reduce the price of the starting materials we can make the pharmaceuticals more affordable to people.'
Dominic Campopiano, an expert in enzymology at the University of Edinburgh, UK, describes the new process as 'neat and clever' and an improvement over earlier methods. However, he notes that the reaction will be more difficult with bulkier and branched chain amino acids.
Soloshonok acknowledges that there are still many aspects to improve in their methodology. He is now working to extend the scope of the reaction to include functionalised amino acids.