Engineering multifunctional agents for treating Alzheimer's disease
A new treatment for Alzheimer's disease has been developed by Canadian and US scientists.
Chris Orvig at the University of British Columbia, Canada, and colleagues incorporated a thioflavin dye molecule with pyridinones. The dye is used as a marker for detecting amyloid protein deposits in tissues - a sign of neurodegenerative disease - and pyridinones cross the blood-brain barrier and trap the metal ions that cause the Alzheimer's disease.
Alzheimer's affects 24 million people worldwide and is largely caused by increased levels of trace metal ions, such as copper and zinc, in brain tissue. There are few treatments and no cures.
Metal chelation agents that trap metal ions have been used in an effort to reduce the effects of excess metal ions in the brain. But they are limited by poor uptake into brain tissue and poor targeting capabilities. Orvig and his team believe that they now have the answer as a two-pronged attack combining a targeting dye with a metal chelation agent that crosses the blood-brain barrier easily.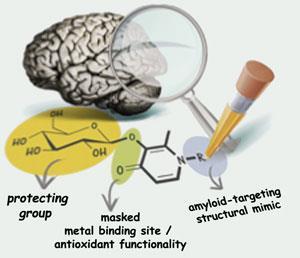 The team used a rat brain uptake study to monitor the efficiency of the drug. The radiolabelled molecule was then compared with other molecules that are capable of passing through the blood-brain barrier such as caffeine and nicotine. This indicated adequate cerebral uptake of the drug, confirming that brain-permeating pyridinones as AD therapeutics are a possibility.
'The pyridinone framework can be used as a small chelating agent,' explains Orvig, 'and to improve their penetration through the blood-brain barrier and prevent rapid metabolism or excretion we functionalised these molecules by glycosylation [adding sugar units to molecules].'
'Linking a metal chelator to an amyloid targeting element is a very interesting concept,' says Andrew Westwell, an expert in medicinal chemistry, at Cardiff University. 'The challenge lies in demonstrating its delivery to the brain in living systems.'
The team is now working on making further improvements to the compounds using different drug design and docking tools as well as testing the best candidates in relevant animal models.
Carl Saxton
Link to journal article
-D-glucopyranosyloxy)-2-methyl-4(1H)-pyridinones as agents for Alzheimer's therapy
Lauren E. Scott, Maria Telpoukhovskaia, Cristina Rodr?guez-Rodr?guez, Michael Merkel, Meryn L. Bowen, Brent D. G. Page, David E. Green, Tim Storr, Fancy Thomas, David D. Allen, Paul R. Lockman, Brian O. Patrick, Michael J. Adam and Chris Orvig,?
Chem. Sci.
, 2011,
2
, 642
DOI:
10.1039/c0sc00544d