The case of the poisonous socks: Tales from chemistry
The case of the poisonous socks: Tales from chemistry
William Brock Cambridge, UK: RSC Publishing
2011 | 348pp | ?19.99 (PB)
ISBN 9781849733243
Reviewed by Rebecca Brodie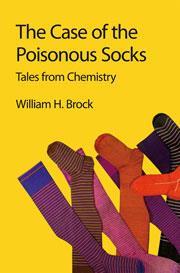 Described as a collection of essays from the 19th and 20th centuries about chemists and their discoveries, I was pleasantly surprised by The case of the poisonous socks. Initially I was worried that each essay would be too detailed as to be only comprehensible by experts in that particular field. Gladly, I was wrong.
As explained in the first chapter, this year is the International Year of Chemistry, a time to celebrate the achievements of chemists and chemistry's role in our world. I found it interesting to read just how much of an influence chemistry has had on our day to day lives, from the clothes we wear to the food we eat.
Each chapter is a collection of relatively short and easy to read essays, making it simple to put the book down and pick up again later. One favourite was the story which gives this book its title. It was interesting to read that chemical detective work is not a modern notion and funny to learn about the scientists' views on the colourful undergarments of Victorian society!
The book is broken up into six sections, chemical futures, organizing chemistry, a cluster of chemists (individual chemists who have made significant contributions to the field), women chemists, chemistry books and journals and lost to chemistry. This last section consists of interesting stories of people who initially trained as chemists, but moved on to be successful to varying degrees in other wide ranging fields such as music, economics and journalism.
Written in a friendly, flowing format, this book would be appealing to anyone with an interest in the history of chemistry, and science in general.
RSC members can purchase this book direct from the RSC for a 35% discount.