The Barbican Centre, London, UK
Open until 26 August 2019
Tickets £15 | Further information:
www.barbican.org.uk/whats-on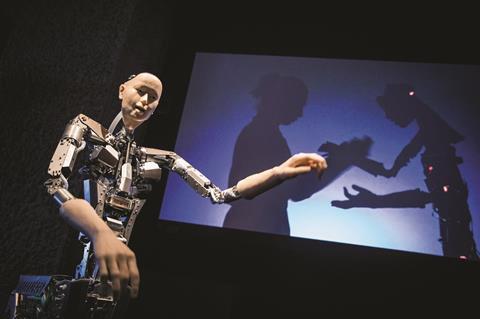 I was a little surprised when, shortly after entering an exhibition all about artificial intelligence, I came across a display on alchemy. We mostly hear AI discussed in the context of futuristic developments. Facial recognition, robots who can outsmart us, algorithms that can do everything from read our minds to deliver justice. But humankind's fascination with artificially creating living things goes back a long way. Centuries before we switched on the first robots, alchemists were obsessed with creating miniature beings called homunculi out of blood, magnets, sulfur and iron.
The Barbican Centre's AI: More than Human exhibition starts by looking at AI's origins in history and culture, before moving on to the kinds of AI that are in use today and later the ways the technology is set to change the way we think about intelligence in the future. It is the result of a collaboration between artists and scientists – an ideal combination, as AI throws up ideas that both groups are keen to explore.
I visited on a busy Friday evening and the space was buzzing with activity thanks to the many interactive displays. I watched as a teenage girl had a go at a first-person driver video game. While cameras recorded her facial expressions, a screen behind her displayed results generated by an algorithm designed to pick out particular emotions: disgust, rage and joy flash by in quick succession. Further on, visitors ordered cocktails from a robot bartender.
Some of the showpieces were mind-bendingly cool, others slightly terrifying. I didn't much warm to the Alter-3 android, with its machine-mounted expressionless face designed to be of unknown age and gender. For me, the demos also served as a reminder that even the most sophisticated machines aren't infallible. I waited patiently to have my picture taken in the 'circuit training' booth, which creates art out of the textures and shapes captured in the photos of visitors. But just as I reached the front of the queue, the machine crashed.
'It's quite temperamental,' the operator said apologetically and advised me to come back in 10 minutes. A few feet away, another employee tried unsuccessfully to wake up a stubbornly motionless Sony Aibo robot dog.
While the whole experience certainly made me think, I left reassured that – however intelligent – machines aren't ready to take over the world just yet.