Soap, science and flat-screen TVs: a history of liquid crystals
Soap, science and flat-screen TVs: a history of liquid crystals
David Dunmur and Tim Sluckin
Oxford, UK: Oxford University Press 2011 | 368pp | ?29.95 (HB)
ISBN 9780199549405
Reviewed by Geoffrey Luckhurst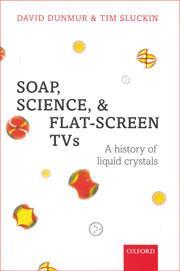 In 1888 Friedrich Reinitzer was working in Prague on cholesterol formed by plants. To characterise this he prepared its benzoate ester and found, surprisingly, that it had two melting points. He sent a sample to Otto Lehmann in Aachen who discovered that the phase between these two points had optical characteristics akin to crystals even though it flowed. These observations are now recognised as the discovery of liquid crystals. Thirty-six years later Daniel Vorl?nder, who synthesised many new liquid crystals, wrote that he could see no possible technical application for them. With hindsight and the advent of flat-screen liquid crystal displays it is now clear how wrong he was.
This book describes the intriguing journey from the discovery of liquid crystals to their ubiquitous use in electro-optic displays. On the journey we encounter not only key liquid crystal scientists but also others who contributed to the cultural environment in which they worked. The authors describe the emerging scientific contributions and provide anecdotal accounts to reveal something of the character of the scientists and the tensions between them. The science encountered in this erudite account is multidisciplinary involving chemistry, material science, physics and biology both experimental and theoretical. This science is well described and for those wishing to learn more there are accessible technical boxes embedded in the text. It is also wide ranging and deals with the different liquid crystal phases, molecular design, their apparent role in living things as well as their vital role in cell membranes in addition to the essential features of displays and the crucial part played by industry in their creation.
I greatly enjoyed reading this excellent book and would recommend it widely. It provides a perceptive insight into the evolution of the important area of soft matter and the development from this of an impressive display technology.
Further Reading
Other related books
S Kumar, Liquid crystals: experimental study of physical properties and phase transitions (2001, Cambridge University Press) (ISBN 9780521187947)