Dictionary of mass spectrometry
Dictionary of mass spectrometry
Anthony Mallet and Steve Down
Chichester, UK: John Wiley 2009 | 182pp | ?29.95 (SB)
ISBN 9780470027615
Reviewed by Alison Ashcroft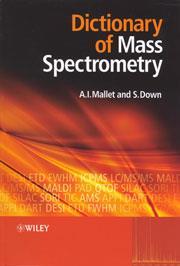 This dictionary fully deserves a place in every analytical laboratory. Over 800 technical terms, listed in alphabetical order, are clearly and concisely defined. These terms cover a wide breadth of techniques, applications and instrumentation used currently and over the years in the field of mass spectrometry.
The comprehensive list of entries is impressive, covering techniques that are rarely seen these days but which are embedded in the history of analytical science (for example, field desorption ionisation, fast atom bombardment) as well as the most current instrumentation (including ion mobility spectrometry, orbitrap analysers, lab on a chip technology).
All types of ionisation techniques, analysers, detectors and acquisition modes are described. On top of all this though, is the inclusion of a range of applications that will appeal to scientists of all disciplines, which covers nanotechnology, proteomics, metabolomics, and biomolecular interaction analysis.
One of the key highlights of this book is the informative diagrams, formulae and photographs which help explain the technical terms and physical science.
Seasoned mass spectrometrists will certainly enjoy this text, revisiting principles that were learnt many years ago. Equally, a new generation of scientists will find insights into the secret world of mass spectrometric acronyms and be able to delve quickly into the concise yet complete descriptions of these technologies.
In summary, a slim volume packed with readable, informative scientific insights into wide-ranging technologies from masters of the subject - a real gem!