Sarah Byrne reports on the new paradigm in producing PhDs, and asks what the future holds for doctoral training in the UK and beyond
Doctoral education in the UK is changing. In science, engineering and the social sciences at least, the traditional model of a student apprenticed to a supervisor is being replaced by centres for doctoral training (CDTs) where students are taught as part of a cohort, with an emphasis on broad scientific training, transferable skills and a collaborative approach with multiple supervisors.
In 2008, the Engineering and Physical Sciences Research Council (EPSRC) provided £250 million to establish 40 CDTs at universities across the UK. Eight of these had a strong chemistry focus, including Imperial College London's chemical biology centre (now the Institute of Chemical Biology; ICB), the University of Bristol's chemical synthesis centre and the University of Bath's sustainable chemical technologies centre.
In November 2013, a further £350 million was provided to continue the centres and create new ones. CDTs are clearly proving popular. But how are they changing postgraduate education in chemistry, and what might the future hold?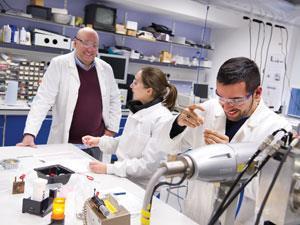 Aiming high
'In my opinion, CDTs have more than exceeded expectations,' says Laura Barter, deputy director of Imperial College London's ICB. 'It's been really exciting to see the ICB's impact over the past decade. CDTs provide real benefits: cutting edge research and collaborations, and bespoke training that enables CDT students to grow both in terms of their scientific achievements and also in their levels of confidence.'
An independent mid-term review of the centres in 2011 was similarly positive, noting all CDTs had made 'good progress or better', that they provided an 'effective means of training, allowing students more time to gain specialised skills' and that they brought people together.
Duncan Casey, a postdoc at Imperial College London, recently graduated from the ICB programme and says CDT students gain valuable independence at an early stage. 'Often your supervisors are all very tightly specialised in their own areas. Sometimes the student is the only person in the room who really understands how all the different aspects of the project link together.'
'You become quite mature,' adds his colleague Ali Salehi-Reyhani. 'By the time you've completed your PhD, you have the ownership of your research that's akin to a postdoc in his second or even third posting.'
A thing of the past?
Despite their successes, the EPSRC insists that CDTs are intended to augment, not replace, traditional doctoral training options.
The variety of support available for doctoral research through CDTs, doctoral training partnerships (DTPs) and industrial Case studentships provides flexibility, says the EPSRC, to suit the strengths of individual researchers and their programmes. The non-CDT options still comprise more than half of the EPSRC's funding for studentships, and this is a situation it intends to maintain. 'The EPSRC expects the split of funding [between the three] to remain broadly the same in the future,' says Neil Viner, associate director at the EPSRC.
'There's still a role for the traditional PhD route alongside CDTs,' adds Nick Norman, head of chemistry at Bristol University. 'There's a difference in emphasis [between the two routes] and that reflects the different needs and desires of our students.'
Our students are in demand … we equip them for academia and other careers
The broad training in the first year of the CDT course suits some students, he explains, but others arrive with definite ideas about the project they want to do and the supervisor they want to work with. In these cases, the non-CDT PhD could be more appropriate.
'Not every student will want to be part of a larger cohort,' Barter admits. 'Some students do want to go away and work on their own. But I don't necessarily think that's as healthy. One of the benefits of a CDT is that you build a network of peers who could be your collaborators in the future. I think that's a good thing.'
Second-class grads?
There are some fears, however, that graduates from different routes will be viewed differently, creating a 'two-tier' system in higher education. In particular, international students, who are generally ineligible for CDT places, could be pushed out of UK doctoral training as the centres gain precedence.
Norman says this is an oversimplification. Sources of funding for PhD students are diverse – international students may have government scholarships from their own country, or may be funded by the UK research councils or by an industrial sponsor or charity — and the length and structure of the course varies accordingly.
'There may be some risk [of creating a two-tier system],' Norman concedes. 'But it's a risk that can be managed. It would be wrong to think of a non-CDT PhD as an inferior experience.'
Doctors without borders
As higher education becomes a global market, these international considerations and comparisons become more important. In the US, a PhD programme typically lasts at least four years and candidates must attend classes and complete coursework — a system similar to the CDT-based programmes in the UK.
However, a 2012 report from the American Chemical Society called for an overhaul of graduate education, highlighting a rise in unemployment among PhD graduates and raising concerns about over-production of chemistry PhDs. The report noted that graduate schools are not providing adequate preparation for students' future careers. CDTs, with their focus on transferable skills and links with industry, may be a step ahead on this score.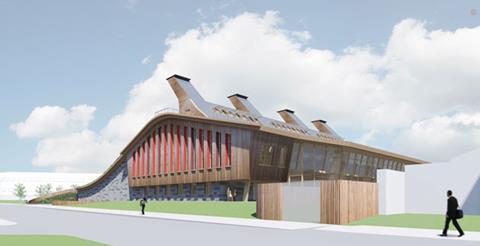 There have also been calls for a 'decoupling' of training and research to end the tradition of graduate students and postdocs being used as cheap labour to staff labs. The CDT model, with multiple supervisors and research-group affiliations per student, may be one way to counteract this tendency.
The European perspective is more complex. In several countries, doctoral candidates are currently recognised as professionals, with all the associated rights and benefits, rather than being categorised as students. The rise of structured doctoral programmes would appear to reinforce the student role, which some see as a backwards step.
'We do have concerns about the status of doctoral candidates being either further hardened or retrograded to a student status,' said Anna Tschaut of Eurodoc, the European Council of Doctoral Candidates and Junior Researchers. Tschaut is worried by discussions among European bodies that describe doctoral training as the 'third cycle' of university education, rather than as a junior research position, adding that this could reduce research freedom.
But having some formal structure is necessary to protect students, argues Thomas Jørgensen at the European Universities Association (EUA), responsible for its council for doctoral education. 'Otherwise you are at the mercy of your individual supervisor.' Programmes could become too structured, he warns, but overall the EUA is strongly positive on the trend towards structured training.
'It's good for giving more opportunities to students, it's good for interdisciplinarity … and it produces a better quality of research,' says Jørgensen. 'It's almost universally accepted now that it's the best way to do things.'
Better by design
Critics of CDTs suggest the research-themed centres lack diversity. They also question the emphasis on skills development rather than research output, as well as the increased cost per student compared to traditional PhDs. But supporters argue this is time and money well spent in producing a better quality of graduate. As well as conducting high-quality research, they say CDTs' broad training base and business-focused opportunities (such as the ICB's Dragon's den-style competition, which offers £20,000 for commercial development of a scientific idea) prepare students for careers outside academia.
Barter highlights the 'fantastic achievement' that about 80% of the ICB's students remain in research and science-related professions following their PhD. 'Our students are in demand … we're providing a broad enough training to equip students for both academia and other careers.'
The importance of well-rounded graduates is echoed by industry. 'It is really important that [applicants] have a broader knowledge and understanding of science beyond their immediate study area,' says Harry Kelly, chemistry operations manager at GlaxoSmithKline. 'At this level we are also looking for evidence of leadership skills, ability to influence and analytical thinking.'
Close ties with industry are a particular feature of the newest member of the chemistry CDT family – the centre for sustainable chemistry at the University of Nottingham. 'Students will have industrial mentors to enhance the interaction with industry,' says Nottingham's Christopher Moody. 'We have a long history of collaboration with industry, and [the CDT] will bring more.'
With praise from academia and industry, CDTs seem set to stay, but they will continue to be reviewed says Viner. 'The EPSRC would expect to refresh the portfolio of centres in about five years' time. CDTs are a key part of the way we deliver postgraduate training in research, and we have no plans to change this.'
'I think the future will be more towards the CDT model,' Norman predicts. 'There's huge emphasis on training now. It's about training people: for the good of the economy, for growth.'