Yfke Hager speaks to tomorrow's chemists being trained in the science of sustainability
Kathryn Wills has just embarked on an internship at the Parliamentary Office of Science and Technology, where she will spend the next three months preparing a report for MPs on greenhouse gas emissions. 'It's an opportunity to inform politicians and influence how science translates into policy,' she explains. But Wills is not the usual parliamentary intern – she is a final-year PhD student at the doctoral training centre (DTC) in sustainable chemical technologies at the University of Bath, UK, where students are encouraged to take up such internships to apply their knowledge and develop their skills. 'The training I've received at the DTC has honed relevant skills such as communicating science to different audiences,' she says, 'and that will be a real advantage when I start applying for jobs.'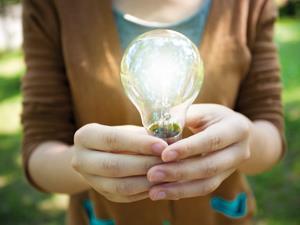 In 2009, the DTC in sustainable chemical technologies opened its doors to the first cohort of students starting a four-year integrated PhD programme. 'A history of close collaboration between the chemistry and chemical engineering departments led to the opening of the centre,' explains director Matthew Davidson. 'Our philosophy is to place sustainability as a core concept in all the training and research we do.'
Sustainable development
Funded in part by a £7.5 million grant from the Engineering and Physical Sciences Research Council (EPSRC), the DTC is now training over 50 students. During the first year, students complete two research projects and take advanced courses on topics including catalysis and clean technology, explains director of studies Janet Scott. Students also receive training in environmental management, sustainable development, business practice, public engagement and media skills, and attend a one-week residential course in Devon focusing on ecological and societal aspects of sustainability. 'This training helps equip them with skills needed for a career in industry, where scientists are expected to work in teams to develop solutions to problems,' says Scott.
At the end of the first year, the students choose their PhD project, which is co-supervised by academics in the chemistry and chemical engineering departments and an expert from an industrial or international partner. Supportive training activities continue during this period, including internships, so they need to work efficiently. It's a lot of work, 'but after the two research projects in their first year, the students really hit the ground running,' says Davidson.
The variety of experiences offered by the DTC attracted Tom Wildsmith. 'The research projects were an excellent introduction to different labs before deciding on a PhD project,' he says. His research, which is industry-sponsored, focuses on the development of thermoelectric materials for semiconductors. 'The sponsor helps by conducting analyses and providing target materials,' Wildsmith explains. Sponsors benefit by having the opportunity to commercialise any leads that the students develop, and by identifying potential employees. This works both ways, says Dan Minett, who is researching the formation of commodity chemicals from the catalytic reduction of CO2. 'I'm planning to find a job in industry after completing my PhD, and it's been very useful meeting and working with potential employers during the past few years.' Minett particularly appreciated the training in legislative aspects of sustainable chemical technologies. 'I would now feel confident dealing with these issues in a job in industry,' he says.
Working together
The students also benefit greatly from working in cohorts, explains Scott. Gone are the days of PhD students working in isolation; the DTC offers a physical hub called the SusLab that offers desk space for all first year students, hot desking and an informal discussion and social area. 'Our students are graduates from a range of disciplines, including natural scientists, physicists and mathematicians, and learning from others with diverse backgrounds really strengthens the experience,' says Scott.
The sense of cohesiveness within cohorts has worked even better than expected, adds Davidson, and is enhanced by the students sharing their broader experiences. Tom Forder worked as a research chemist at Lubrizol in Manchester, UK, before applying to the DTC, and now draws on his past industrial experience. 'I enjoyed working on projects with real world applications that I could explain to non-academics,' he says. And sometimes internships offer experiences further afield: in November 2012, another member of the 2009 cohort, Julia Griffiths, will work with Ethiopian academics at the University of Addis Ababa to develop a new lecture course on sustainable chemistry.
The entrance requirements for the DTC are a first or upper second class honours degree in chemistry, chemical engineering or a related discipline and there is strong competition for places. '[In 2011] there were 180 applicants for 12 advertised places,' says Scott. This year's cohort will be the last funded by the current EPSRC grant, but plans are underway to secure future funding to ensure that the DTC's research into sustainable technologies is itself sustained.