Many are protesting stipends that see them work for below minimum wage
A national survey by the Ottawa Science Policy Network has revealed that graduate students in Canada are under immense financial pressure, struggling to get by on stipends that have remained at the same level since 2003. The average PhD student receives C$24,000 (£14,700) a year – significantly below minimum wage. The Support Our Science campaign is putting pressure on the federal government to improve the levels of support available. PhD researchers elsewhere in the world are also struggling, and are increasingly protesting the low stipends and lack of employment rights available to them.
Below minimum wage
Canada isn't the only country where many graduate students receive funding that pays less than minimum wage. In Australia, the minimum tax-free stipend rate set by the federal government's Research Training Programme in 2023 is A$29,863 (£16,850); someone working a standard 38 hour working week on Australian national minimum wage would take home $37,302 a year after tax and the Medicare Levy have been deducted. Universities can opt to increase stipends above the minimum stipend level (up to a maximum value of A$46,653), but as of yet no Australian university has sufficiently increased stipends to meet minimum wage. The University of New South Wales reportedly plans to achieve this in 2024.
A study that collected and analysed scholarship data for New Zealand's eight universities revealed that the average tax-free PhD stipend was NZ$25,424 (£13,100) in 2019; the take-home pay of someone working a full-time minimum wage job was $30,841 at the time. A stagnation in stipend values means PhD researchers have earned increasingly less than minimum wage since 2014. In late 2021, PhD candidates Chrystal O'Connor and Caitlin Hyde started a petition for stipends to increase to at least minimum wage (and preferably living wage). In response, universities have increased the remuneration they give PhDs – however, most of these increases still leave researchers on less than minimum wage.
High rates of inflation in 2022 triggered petitions and open letters from PhD researchers to UK Research and Innovation (UKRI), whose minimum PhD stipend is often used as a guide by other UK funders as well. A planned 3% increase in stipend was increased by a further 10%, taking minimum PhD stipends to £17,668 – back above the take-home pay of someone on minimum wage for the first time since 2020. However, an increase in minimum wage and a cut in income tax due this April will again result in PhD researchers earning less than minimum wage. UKRI opened a consultation last year on a 'new deal for postgraduate research', which will consider not only improvements to the pay and working conditions of PhDs, but also the purpose and structure of PhD courses. The outcomes of the consultation were due to be published by the end of last year but have still not been announced at time of writing.
Employment status
One reason why funders and institutions can pay PhD researchers below minimum wage is because they are classed as students, meaning employment laws do not apply to them. This also denies PhDs various other employment protections such as paid annual leave and sick pay, as well as other forms of state support that are only granted to low-income workers (for example, free or subsidised childcare).
Some countries do treat PhD researchers as employees on fixed-term contracts. In Norway, PhD candidates are paid a minimum of grade 50 on the Norwegian state salary scale – currently NKr 471,300 (£37,780) before tax and other deductions. In Sweden and the Netherlands, collective agreements between universities help to protect against low salaries. Pay rises also automatically follow as the PhD candidate completes each year or stage of their project.
In a recent development, since the start of the 2022/23 academic year most new PhD candidates in Estonia have both student and employee status. Following a change in national legislation, they are employed in state-funded junior research fellow positions with a salary comparable to the Estonian average – currently set at €1720 (£1510) per month before tax (although it is also still possible to be admitted to a doctoral position without an employment contract, funded through scholarships). As employees, they receive annual leave and national health insurance, among other benefits; the dual student status leaves them eligible to apply for certain scholarships as well. Previously, PhD candidates received a doctoral allowance of €660 per month, though many universities would top this up with a performance stipend of €400. PhD candidates who matriculated before 2022 remain on this stipend scheme but can apply for junior research fellow positions.
Collective action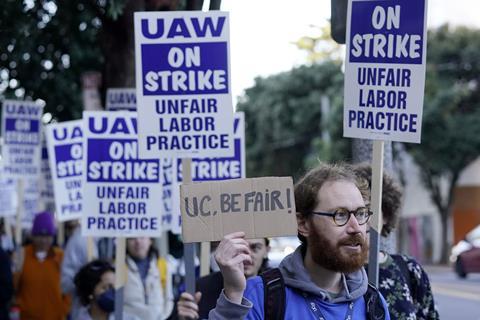 Many postgraduate researchers banded together in 2022 to campaign for improvements to pay and working conditions. Across the US, campaigns to unionise were successful at several universities; strikes at Columbia University and the University of California ended after reaching agreements with administrators.
Throughout 2022 in Ireland, two researcher-led organisations – the Postgraduate Workers Alliance of Ireland (PGWAI) and the PhDs' Collective Action Union (PCAU) – led large-scale protests and held meetings with representatives from across the political spectrum to demand improved working conditions and support for postgraduate researchers; at the start of this year, these organisations merged to form the Postgraduate Worker's Organisation (PWO). Ireland's 2023 budget subsequently included an increase of €500 in the support provided to postgraduate students on certain funding schemes. Before that, the average stipend was €18,500 (£16,270), with many earning much less (someone working 37.5 hours a week on minimum wage takes home €20,038 a year after deductions for tax, social insurance and Universal Social Charge). Last October, minister for further and higher education Simon Harris announced a review of the support available to PhD researchers, the scope of which will also investigate employment status, the equity of current arrangements and visa requirements for non-EU researchers. However, in mid-February the PWO reported that it had been told the review had been delayed by three months; the outcomes are now due out by the end of June. PhD researchers in Ireland can make submissions to the review until 13 March.
At the Indian Institutes of Science, sharp increases in the fees charged to postgraduate researchers, which include hostel, mess and tuition fees, triggered a series of strikes. At IIT Bombay last August, MTech and PhD students went on a week-long relay hunger strike to protest increases in fees that would have seen PhD students pay 45% more than the previous year (MTech students were affected by a 32% increase). Representatives of IIT Bombay reportedly said the increase was needed to pay for the upkeep of infrastructure, including hostel buildings. The strike ended after IIT Bombay pledged to increase fees by a lower amount, and to review plans for a 5% annual increase. At IIT Delhi, an increase in PhD fees from INR20,150 (£200) to INR30,850 led to a two-day protest in September that also campaigned against MTech fees more than doubling. The protest ended when the institute agreed to a smaller fee increase that will see PhD researchers pay around INR26,000 per year.
With academics at other career stages also leading protests against budget cuts and below-inflation pay rises, protests are likely to continue throughout 2023. But without immediate action, any improvements are likely to come too late for the curent cohort of PhD researchers.