Tens of thousands of scientists, engineers and other technical specialists staged a UK-wide walkout on Wednesday as part of an ongoing dispute over pay, redundancy and working conditions. The Prospect trade union, which represents public and private sector workers in science, technology and service positions, declared the day-long strike following an unprecedented 80% vote in favour of industrial action.
'It's a real barometer as to the sentiments of staff and how they feel treated by their organisations,' says Garry Graham, deputy general secretary of Prospect. 'What's happening with inflation and our members' earnings is not an aberration. It's the rapid acceleration of a trend that's been in place for more than a decade.' Public servants, including those working for UKRI, the Met Office and the UK Health Security Agency, have experienced real-term pay cuts of 26% since 2010, faring significantly worse than other areas of the public sector, according to Prospect. 'The government [also] announced that they want to reduce headcount by one in five – around 91,000 staff – and at the same time, they want to reduce redundancy terms,' says Graham. 'These issues have come together and been a flashpoint. There is now real anger and frustration amongst our members who feel they are taken for granted.'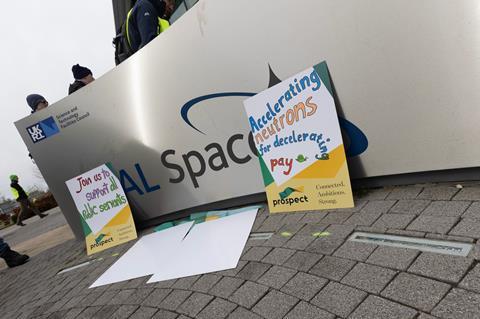 Following the biggest industrial action ballot in over 13 years, thousands of staff stood at picket lines across the country on budget day on Wednesday, causing significant disruption throughout the UK science sector. Research institutes including the British Antarctic Survey, the National Oceanography Centre and the Rutherford Appleton Laboratory were severely affected by the walkout with some facilities such as the Diamond Light Source in Oxfordshire reportedly closing due to staff shortages. A spokesperson for UKRI, the government body responsible for research funding, said 'We respect the right of colleagues to take industrial action. UK Research and Innovation pay awards are subject to the civil service pay remit guidance and we continue to work with both HM Treasury and our trade unions to reach agreement.'
Prospect members were keen to deliver a clear message to the government: 'We've now transitioned to action short of a strike where we've asked people not to do voluntary overtime and work to their contracted hours only. I think over the short-to-medium term that will have the most significant impact,' explains Graham. 'We hope that the government will come to the negotiating table and have meaningful discussions on the issues of pay, headcount reduction and threats to redundancy terms.' This action short of a strike is ongoing but the union is hopeful that the recent resolution of the government's dispute with the NHS will pave the way for negotiations without recourse to another strike.
In academia, a breakdown in the negotiations between university staff and employers means strikes are continuing to disrupt higher education across the UK. The University and College Union (UCU) is currently in its 7th week of industrial action with over 70,000 staff across 150 universities engaged in a fierce dispute over pay and working conditions.
'Over a decade of low pay awards [have put] staff pay 25% behind inflation. On average, university staff work an additional two [unpaid] days per week [and] a third are on some form of insecure contract,' says Nathan Gayle, a press officer at UCU. 'UCU's demands include a meaningful pay rise, an agreed framework to eliminate insecure work practices and action to address dangerously high workloads.'
After weeks of intense negotiations with the Universities and Colleges Employers Association (UCEA), university employers made an offer on Wednesday, proposing reinstatement of the Universities Superannuation Scheme pension by April 2024 and new policies to tackle zero-hour and other casualised contracts. However, despite this offer, members of UCU will continue strike action this week after the union's Higher Education Committee (HEC) declined to put these latest proposals to a member vote.
'The agreement reached [last] week reflected the employers' genuine desire to positively reset industrial relations in our sector,' commented Raj Jethwa, UCEA's chief executive. 'There is a tangible offer on the table from employers to negotiate on the issues at the heart of this dispute [so] it is disappointing that the HEC has refused to put this to members.'