Elizabeth Farrant climbed to the top in big pharma, but now she's working at a smaller scale, as Sarah Houlton finds out
Like so many chemists, Elizabeth Farrant can trace her interest in the subject back to a really good teacher. But, perhaps less common, she couldn't decide between chemistry and French. So she compromised – a degree in chemistry at the University of Salford with a year in France, alongside an Institute of Linguists degree. 'It's common now to combine sciences and languages, back then it was fairly rare,' she says.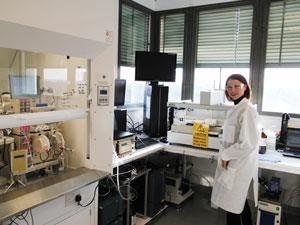 Chemistry eventually won out, and a PhD in natural product synthesis followed with John Mann at the University of Reading, UK. The project – synthesising polyhydroxylated alkaloids with anti-HIV activity – gave her a taste of making molecules with biological activity. While writing up her thesis, she took a job at Reading-based carbohydrate synthesis specialist Dextra. After a year, she joined the combinatorial chemistry group at SmithKline Beecham in Harlow, UK, and moved into medicinal chemistry 12 months later.
During the merger with Glaxo Wellcome to create GlaxoSmithKline (GSK), a new department was set up to investigate technologies that might impact drug discovery. 'Combichem had piqued my interest in doing chemistry differently, and I spent the next five years working on chemistry technology, including flow chemistry – my introduction to the world of microfluidics.'
Rearrangements at GSK in 2007 led Farrant to move to Pfizer in Sandwich, UK, initially working on microfluidics and flow chemistry, then running the chemical technology and analytical sciences group. By the time research at Sandwich closed in 2011, the microfluidic flow chemistry operations had already been spun out into a start-up, Cyclofluidic, with funding from Pfizer, the Technology Strategy Board and pharma company UCB. 'Operations started in Welwyn Garden City in 2009, and I was an observer on the board, and helped organise the scientific advisory board,' she says. 'When the Sandwich closure was announced, the natural thing to do was to throw my lot in with Cyclofluidic, and help the transition from technology development to a commercially viable company.'
Cyclofluidic is assisting early-stage drug discovery, Farrant says. 'Once a hit molecule with some activity is found, the next step is to optimise its drug-like properties. We aim to significantly improve the efficiency of this process.'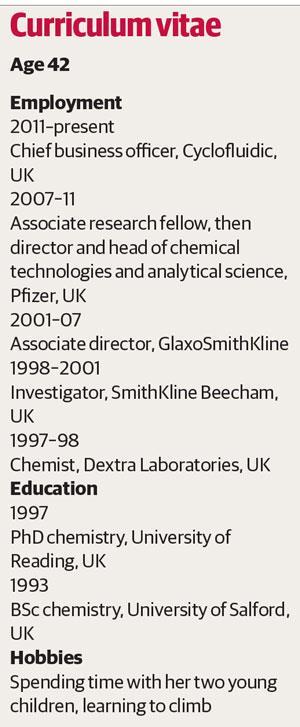 The current medicinal chemistry cycle, from design to synthesis to screen, takes time. Even with all functions in-house, the time from design to assay results can be weeks and increased outsourcing means it can now take a couple of months to get the data. Cyclofluidic aims to speed the process up by automating it using microfluidics and software. 'We can now synthesise, purify, quantitate and screen without any manual intervention, with the whole cycle time taking about an hour,' Farrant says.
'A medicinal chemist will look at the assay data and decide what to make next, or we can feed it into an automated algorithm to do this, which means the system can run 24/7.'
She believes that quickly iterating through chemical space one compound at a time is much more effective. 'We can rapidly probe a group of hits, scoping out the structure–activity relationship landscape to identify the best leads. More separate chemotypes can be explored quickly, and potentially reduce compound-related attrition rates.'
Farrant's role at Cyclofluidic is focused on developing the business. As chief business officer, Farrant now builds up collaborations, and looks at how the company might develop. The current focus is on big pharma collaborations, but the company is now looking to work with smaller biotechs, and to add cell-based assay technology to the current target-based assays. 'We are also looking at risk-sharing projects, perhaps with grant funding for hit-to-lead work, taking molecules forward to a stage where they can be licensed out,' she adds.
Finding herself in business development has come as something of a surprise. 'My love of chemistry led me into drug discovery,' she says. 'But at the outset, you don't realise you won't be in the lab forever – you are likely to move into managerial and strategic roles. My job now involves looking for money to invest in cell-based technology, building networks, and a lot of travelling; I also have an input into our scientific direction. I am fascinated by technology, and it has been great to follow the idea through all the way from the early days at GSK to what we're doing at Cyclofluidic.'