The wide-ranging activities of the winners of the Royal Society of Chemistry's Higher Education Technical Excellence award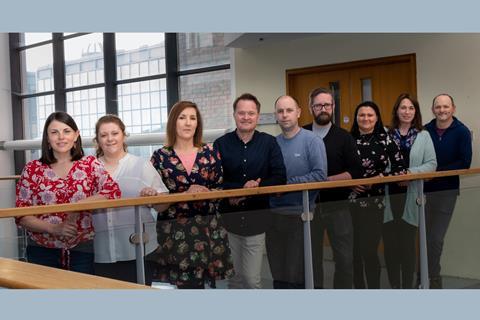 At Dublin City University's School of Chemical Sciences, teamwork and inclusivity are the order of the day for the technical team, which won the Royal Society of Chemistry's 2019 Higher Education Technical Excellence award for 'exceptional services to health and safety and accessibility in Irish Higher Education laboratories'.
The team, whose roles include supporting student learning, has an 'open-door policy' for both undergraduates and postgraduates, says chief technical officer Veronica Dobbyn. She describes the technical office as a central access unit at the heart of the School of Chemical Sciences, where staff and students can seek help at any time.
'We try to be very inclusive and make sure that students have a good learning experience, because university is a scary enough place for an 18-year-old without coming across additional difficulties in a lab environment. Being accessible is a fundamental underlying principle of the team,' she says. 'We are consistently in the laboratory with the students, working as mentors along with academic staff and supporting students to grow in confidence in their practical skills.'
The department has a strong record of helping students with disabilities in the laboratory and strives to accommodate students wherever possible. 'We have had wheelchair users and a number of people with physical impairments. We wouldn't shy away from finding solutions for any situation,' Dobbyn says. The team is experienced at predicting where extra support will be needed, which could range from an encouraging word to adapting a workspace or experiment.
Expert team
Most staff members have worked in the technical office for several years, while Dobbyn has been there for 30. Members are qualified in a range of chemistry disciplines, including analytical chemistry, organic chemistry, instrumental analysis, materials science, environmental science and chemical health and safety, with most now having master's degrees. The team also has an accounts assistant to support purchasing and procurement.
Dobbyn strongly encourages staff to continue to study or complete master's degrees while working. 'We support staff to take time to study. The university and department will support them where possible financially and I would support staff with time to go to classes or take a short course,' she says.
She is also keen for technicians to broaden their skillsets by taking other relevant courses. For example, one of her team has taken time out to learn sign language. 'I think it is good to branch out a little bit and do something different that can benefit the school, such as web design or IT,' Dobbyn says.
Each team member is also tasked with becoming an expert in a particular piece of high-end instrumentation in the chemistry laboratories, running and maintaining it while also providing training to other users. Over the past 10 years, departmental funding has fallen, and bringing maintenance in-house has significantly cut annual costs.
With support from the university the department recently received a new inductively coupled plasma-mass spectrometer and a liquid chromatography–mass spectrometer. 'We are working to get these operational and to develop them for undergraduate practicals, which will give our students fantastic up-to-date, hands-on experiences,' says Dobbyn.
Safety first
The technical team also ensures that staff and students work safely. 'We tend to be at the front of a lot of what happens in health and safety,' Dobbyn says. This includes developing and implementing an electronic form and database for hazardous substance assessment, which has been adopted by other research units across the university. Their record in health and safety also includes some 'unusual protocols', such as a 100g rule, where the technical office will only allow up to 100g or 100ml of a substance to be purchased without justification. 'A lot of researchers would just order in the cheapest quantity regardless of what they actually needed,' explains Dobbyn, which sometimes led to excess waste and increased disposal costs.
Spreading the health and safety message and making researchers think twice about risk management means that there are very few accidents in the department. 'Putting a glass pipette onto a pipette filler generally is the most serious [cause of an] accident that we have at undergraduate level,' she adds.
The team also runs strict laboratory safety checks, with a traffic light system. If highlighted issues are not addressed, then a lab will get a red light and can be shut down until the problems are fixed. In the past, Dobbyn has had to close a messy lab for a couple of weeks. Her main concern is that young researchers consider how their actions could impact their future health.
Technical forum
Dobbyn is excited about an Irish version of the UK's technical managers in universities forum, which brings people together to discuss hot topics in the field. Set up with colleagues from the National University of Ireland, Galway, the Irish chief technical officers forum has met about five times, beginning with five members but now attracting over 55 people. 'It's working really well and we are really getting to know each other. We are supporting each other by sharing information and solutions to the common issues that we face,' she says. The plan now is to open the forum up to technical universities and institutes nationally and across all disciplines.
The technical team frequently has graduates and staff return to the department full of appreciation, after experiencing life elsewhere in academia. 'They say "we didn't realise you did this. We appreciate you now!"' she laughs.
Being open to change also keeps the job interesting. 'You want to develop and improve yourself mentally and keep motivated,' explains Dobbyn. 'It's always good to take up new challenges in the department – doing something different.'