The scientist in charge of providing objective advice to US politics
Michael Fernandez would have never guessed he would be back at the American Association for the Advancement of Science (AAAS) more than 15 years after his first stint. In 1991, he came to Washington DC to work at the AAAS as a science and technology policy fellow. The programme brings scientists to the federal government for a year to work with congressional committees, allowing them to contribute their analytical skills and knowledge to the policymaking process. 'It was a fantastic opportunity and it really changed my life,' Fernandez says.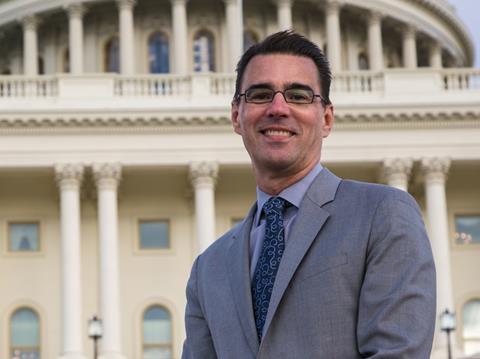 Now, Fernandez – who has a doctorate in biochemistry and molecular biology from the University of Chicago – is back at the AAAS as the founding director of the Center for Scientific Evidence in Public Issues (EPI), which opened its doors on 24 September. The organisation plans to provide politicians with nonpartisan information on scientific issues such as clean water and the opioid crisis.
A voice for science
The EPI plans to separate itself from existing special interest groups and aims to communicate what scientists know about an issue, how they got that information and how that relates to public policy. 'Our goal is to make sure that decision-makers have the evidence base that underlies key public issues,' Fernandez says, and 'that they understand how to evaluate that evidence.' But he notes that the EPI is not an advocacy project. 'We will not be lobbying for particular outcomes on public policy issues,' Fernandez adds, 'but we will be talking about the different choices and what the evidence tells us about the impacts.'
During his initial year at the AAAS, Fernandez worked as part of the senate committee on agriculture, nutrition and forestry, after which he was recruited to continue working in the role as full-time staff. He then went on to work for the Environmental Protection Agency in the office of pesticides and toxic substances, followed by various roles at the Department of Agriculture. Between 2008 and 2016, Fernandez served as the senior director of global public policy at the food processing giant Mars. He also lectures at the George Washington University.
One of Fernandez's first challenges will be to recruit a small team of communications and science policy experts to run the EPI, although he's trying to be realistic about the new centre's future. 'We're not going to change the world overnight,' Fernandez says. Although, eventually, he hopes that decision-makers at national, state and local levels will approach the centre for advice on what research exists around various issues. Fernandez also hopes the EPI's work will reach the general public making when everyday decisions about what they buy, eat or use.
Name: Michael Fernandez
Role: director, Center for Scientific Evidence in Public Issues
Based: Washington DC, US
CV: AB biology, Princeton University and PhD, biochemistry and molecular biology, University of Chicago. Lecturer at George Washington University
The big picture
At this stage, it's unclear exactly which type of issues the center will look to address but Fernandez notes that big-picture problems – including anything from health care, the environment, artificial intelligence and digital privacy – may fall under its remit. The reason, he says, is because the evidence base is a strong component of how one would evaluate what their choices are in these particular areas. However, he realises that the centre's job won't be easy. 'We're at a moment in time when it feels like experts and even the idea of expertise really aren't valued in the same way as they once were.'
Fernandez doubts the organisation will take on many big research projects; instead, he envisions the EPI team focusing on collating evidence and producing succinct, easily understood summaries, using multiple platforms such as social media and videos. The centre also plans to run conferences, workshops, town halls, with the idea of establishing a two-way dialogue. 'At the beginning, we're going to be doing a lot of listening,' Fernandez says.
The EPI will not try to replace or replicate the work of the US National Academy of Sciences. Instead, Fernandez hopes his organisation can be more timely and turn around quick nimble, responses by scouring through existing academic literature on a given topic. He is excited to have the members of the United States' largest general science association at his disposal. 'There is a huge source of information there,' Fernandez explains, adding that it makes him 'very happy to know that I have this incredible resource to draw on'.
Ultimately, the EPI wants to get people interested in obtaining evidence again, Fernandez says. 'I think there's lots of reasons evidence is underappreciated, under evaluated, underutilised in policymaking that are not just people ignoring it. As long as we can establish ourselves in a way that will be taken seriously and trusted, we will have an opportunity to do something that will make a difference.'