Much uncertainty remains as chemistry departments plan how they'll resume undergraduate teaching
Teaching had almost finished at many UK university chemistry departments when the Covid-19 pandemic forced them to shut down in March. Most were able to shift their last few weeks of teaching online and come up with remote assessment methods ranging from coursework to open book exams. 'Across the sector, we've coped very well,' says David Smith, education director at the University of Bristol. Now thoughts are turning to reopening departments and planning for the next academic year.
'Within [the University of] Edinburgh, chemistry will be one of the first buildings to reopen. That reflects the safety culture that's built into the DNA of the chemistry department,' says Michael Seery, the department's director of teaching. Their health and safety manager is leading these efforts, including introducing a strict one way system to navigate the building safely. The hope is that around 50% of staff may be able to return on a rota. 'It's very tense at the moment, everybody wants to get back in and it's just a case of making sure everybody gets fair time,' says Seery.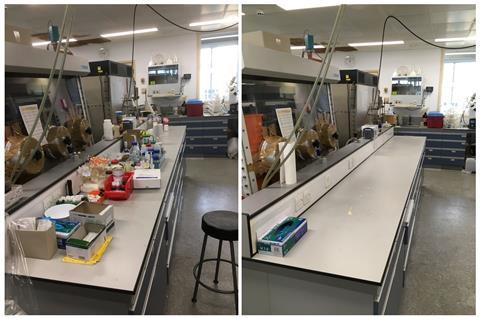 Bristol's chemistry department had stayed in operation for a small team making hand sanitiser, but following a deep clean, it re-opened in mid-June for designated controlled groups. 'Our researchers in synthetic labs have their own fume cupboard so we don't have to worry about the two metre social distancing,' says Smith. Even so, a 33% occupancy is stipulated by the university and this figure seems similar across UK institutions. 'Plans are in process, but we don't have a date to reopen,' says Nick Fletcher, director of teaching for Lancaster University's chemistry department.
Universities UK, the body that represents 137 UK universities, recently published nine principles for university re-opening that prioritise the health, safety and wellbeing of students and staff and follow government guidelines. Preparing for teaching undergraduates in October is now a high priority. While the immediate crisis response was effective, says Smith, '[we] don't think students should be so tolerant of the same sort of approach when we have had a few months to plan.' Universities have stated that students should return for the next academic year, but how they will be taught is still to be confirmed.
Support in changing times
Most chemistry departments are being well supported by their institutions. 'We're getting a lot of guidance and help and we're working through a faculty team who are very proactive,' says Fletcher, who expects 35–40 new students to join Lancaster in October. 'Our biggest challenge is change,' says Suzanna Kean, head of chemistry at the University of South Wales, which has a yearly cohort of eight chemists but also provides teaching for students from other degrees. No one knows how the situation will evolve over the summer and this is making it harder to plan.
According to Smith the key will be social distancing rules (currently people are recommended to stay two metres apart across the UK, but in England this will reduce to one metre from 4 July). Malcolm Stewart, head of the undergraduate teaching laboratory at the University of Oxford, agrees that this distance will be important: 'If it stays at two metres, it's going to be really problematic to get people in the lab, if it comes down to a metre, it's not as problematic.'
There are further differences across the UK. '[Wales is] a few steps behind as England's coming out of lockdown,' says Kean. 'We are perhaps not as far along in being able to make some of these decisions, as some departments in England.' In Scotland Seery says there is general confidence in the approach of the Scottish government: 'Our vice president for students is essentially defining the kind of interactions that students will and will not be able to do based on the descriptions of each of the phases of lockdown.' But from speaking to colleagues in England he senses this confidence in government isn't shared everywhere.
Synchronous vs asynchronous
Most universities are planning for a hybrid or blended model of teaching with lectures moving online but smaller tutorials being delivered face to face. 'Essentially the stage will expand outwards, so that lectures are shut down altogether and tutorials move into larger spaces,' explains Seery. The buzzwords now are 'synchronous' versus 'asynchronous' teaching – whether online sessions will happen in real time or whether they are recorded and available at any time. 'We'll be planning some synchronous activities to make sure that there is some cohort feeling and there's some engagement, but also planning some structured asynchronous activities that students can engage with remotely,' says Smith.
We can offer the students something worth having, but it's never going to be the perfect degree programme

Nick Fletcher, Lancaster University
A concern for Fletcher is the experience for incoming first years at Lancaster University. 'I think we can offer the students something which is worth having, but it's never going to be the perfect degree programme.' Keeping a sense of community is important for the University of South Wales says Kean: 'I wouldn't want to lose that, I think that's actually one of our strengths compared to some of the bigger departments.' She is considering creating student 'bubbles' – a technique being used in primary schools – where small isolated groups could complete lab work intensively with no other students present. Most universities also have 'no harm' policies, meaning that the students who cannot be physically present, either for health or travel reasons, will not be disadvantaged.
One institution that has years of experience in remote teaching is the Open University (OU), which has around 1000 students studying chemistry at their first level, with around 100 at the more advanced stages. Apart from the cancellation of their summer schools, little will change for them. Their courses are taught online via an interactive study planner that takes students through each module and provides in-built assessments.
OU chemist Eleanor Crabb thinks other departments can learn from their approach to managing student expectations: 'It's going to be really important to give [students] a bit of a schedule, but also to give them regular feedback on what they're doing.' Engaging students at a distance can also be an issue. 'It's really hard to stop things from being passive,' says Crabb. 'It's important to try and make things interactive.'
Practical matters
For chemistry teaching the biggest challenge will be practical work and providing the number of lab hours required by the Royal Society of Chemistry (RSC) for degree accreditation. In May the RSC's Committee of Accreditation and Validation advised chemistry departments that while they appreciated the need for flexibility, they would be expected to preserve the overall learning outcomes for students and closely meet the required hours – 300 hours for bachelor degrees and 400 hours for integrated master's degrees – though some of those lab sessions may be in a non-traditional form. This reflects the importance that employers of chemistry graduates place on practical skills.
In the current situation that means departments are thinking hard about how they can meet these requirements. 'We are looking to prioritise the third years for example, to ensure that they do graduate with their hours,' says Kean. 'We haven't ruled out doing summer schools.' In Edinburgh, 'we are reconfiguring our year, so pushing a lot of computational labs [and] data analysis early on in the year,' says Seery. 'But worst case scenario, we will just run some boot camps at the back end [of the academic year].'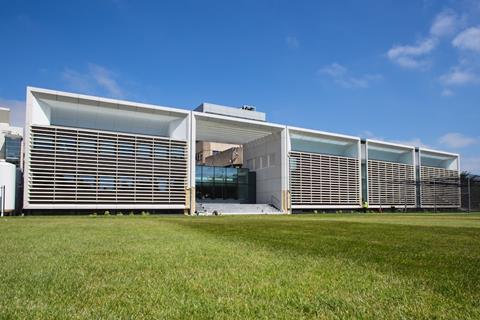 At the University of Oxford, planned building work had meant their teaching labs were already scheduled for closure so the department had started to make alternative plans. Unlike many universities their teaching continued into June – with over 75 hours of online practicals planned via a 'virtual learning space'. These concentrate on the problem solving and data manipulation aspects of practical work, tasking students with investigating the properties of a simulated virtual enzyme and writing code to manipulate NMR spectra, for example.
The University of Bristol has been able to provide some virtual labs through its 'dynamic lab manual', developed over 10 years to provide instrument simulations and video demonstrations. There are even simulations that allow students to set up distillation apparatus. 'It's invaluable right now,' says Smith. The OU also has a suite of interactive screen experiments and real remote experiments such as their auto-titrator. 'There's a webcam on the system itself so [students] can see what's going on and then they have an interface that they can control,' explains Crabb. The OU is now looking at arranging access for other institutions.
Oxford has launched a fortnightly virtual conference known as 'dry labs' to allow all university chemistry departments to share best practice for online labs. This is a response to 'the almost unique challenge that chemistry faces in terms of practical work,' says Smith. 'There's a good community in chemistry, which is allowing us to actually share good practice,' says Fletcher.
Fletcher does voice one note of caution about simulated practicals: 'The big concern is that it reduces teaching chemistry to a poor computer game.' And some skills cannot be taught remotely. 'It's the actual synthetic side of things that's much harder [to reproduce],' says Crabb. Plus, says Stewart, students will miss 'the social interaction and peer to peer learning [from] watching someone else next to you do something.'
A new age
The practicalities of getting back to the teaching labs will differ for each chemistry department. 'Those with newer facilities that have been better designed will undoubtedly cope more easily,' says Smith. For small departments capacity is a real issue. 'My largest lab would normally hold 40 students, and it's been proposed that we can only have five in that lab. That obviously has a huge knock on [effect] with regards to lab rotations, staffing and resources,' says Kean.
But even at this early stage, lessons have already been learnt that might create lasting changes to chemistry teaching. 'We have been jolted from the Victorian era into quite modern thinking around how we assess,' says Seery, who thinks open book exams may be here to stay. 'I can't see us ever going back to lecturing to the same extent that we used to,' adds Smith.
And while there are still hurdles to jump before laboratory life can fully resume, there is increasing confidence that chemistry courses will adapt to a post-lockdown world. 'A few weeks ago I might have broken down in tears, but week by week, we are getting a sense of what this will look like,' says Seery.