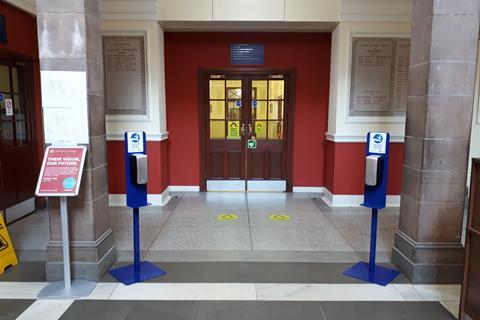 Lockdown closed virtually every chemistry department in the UK. The only exceptions were for essential maintenance, those making hand sanitiser and Covid-19 research projects. As restrictions are eased, reopening labs across the country has meant a great deal of hard work to make sure government guidelines are followed and researchers feel safe.
Most chemistry departments are now up and running again. Careful planning and focused consultation has been key. This has involved continuous communication between research staff, estates managers and health and safety departments, as well as sharing of good practice between UK chemistry departments.
Sharing ideas, plans and processes between chemistry departments [means] we don't all need to invent our own wheels

Lizzy Ostler, University of Brighton
Most researchers and students are glad to be back too, albeit in much-changed surroundings. Many are supported by time-limited funding, and their future careers depend on results that can only be achieved in the lab.
The new lab landscape
Chemistry departments in the UK have been introducing a number of safety measures to allow researchers to return to their labs. These include 2m physical distancing, one way systems, hand sanitising stations and face masks at some institutions.
From a certain perspective, the new requirements are just an extension to many practices that are already in place, notes Lizzy Ostler, head of chemistry at the University of Brighton and incoming chair of heads of chemistry UK (HCUK). Lab workers already routinely use personal protective equipment (PPE) and need to conduct risk assessments for almost all activities. Equally, some facilities, such as those requiring liquid nitrogen reservoirs, have been maintained throughout the lockdown period for safety reasons. 'This may be why university chemistry departments across the country have tended to be amongst the first to return to on-site working,' she says.
It's certainly taken a bit of time for people to get their research projects back to where they were before lockdown started

Nick Le Brun, University of East Anglia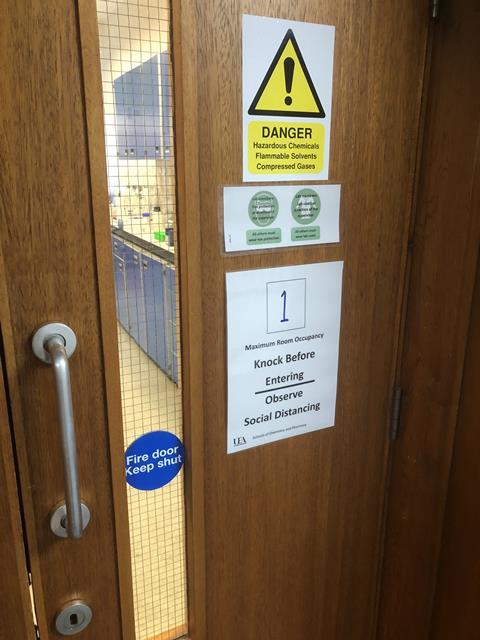 However, from a management viewpoint, the situation is more complex, Ostler notes. 'Everything from deep cleaning to air-handling systems needs more attention than normal, and the reduction in occupancy to meet social distancing requirements means that staff must be organised into groups and allocated "shifts" to enable access to facilities. Measures must be in place to avoid lone-working with hazardous substances. HCUK is sharing ideas, plans and processes between chemistry departments so we don't all need to invent our own wheels,' she adds.
The school of chemistry at the University of Bristol was one of the first departments to re-open. 'We started planning early and produced safety protocols in April,' explains Paul Pringle, school safety adviser. The university has limited building occupancy to 33% and labs are now open 12 hours a day, seven days a week. Typically, a lab has two 'bubbles' of researchers, each with four to six people in them. If one person was to test positive for Covid-19, then 'very likely' the whole bubble would self-isolate. The department is divided into zones and movement is restricted between zones. Almost all academic and admin staff are still working remotely.
A big job
The work involved in re-opening labs was enormous, says Nick Le Brun, head of chemistry at the University of East Anglia. The university implemented a phased return starting in mid-June, with 25% lab occupancy, and this meant prioritising certain staff and students. Phase 2 is just starting and occupancy levels will rise to around 50%.
Le Brun has also introduced a shift system and rota. 'We were able to get all lab-based researchers (who were able to return) back in the lab for at least part of the week.' Social distancing was also observed in offices and it was made clear that once experimental work was complete, people should go home. 'People flow signage, first aid contact notices, social distancing reminders, maximum occupancy indicators (for labs and desk-rooms) and social distancing indicator floor tape all had to be organised and implemented – a herculean task! It's certainly taken a bit of time for people to get their research projects back to where they were before lockdown started.'
From mid-July, we will have all experimental researchers back in work

Steven Christie, Loughborough University
Reopening the department has been a challenging and time-consuming process, agrees Claire Carmalt, head of chemistry at University College London (UCL), but also very rewarding. Before re-opening, departmental representatives and facility managers agreed operational elements including opening hours, cleaning arrangements and waste collection. Anyone entering the building must sign an online code of conduct relating to new safety practices. An online 'diary' tracks key safety-related staff in the building.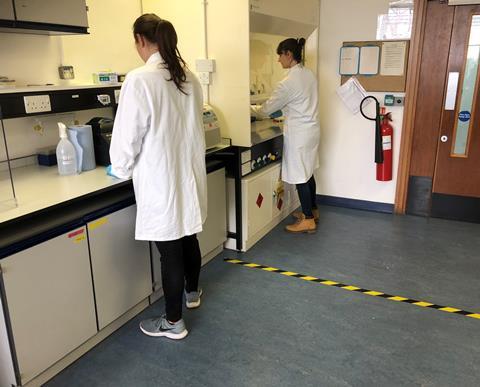 UCL has adopted a two cohort system where researchers have one week in the lab and one working at home. 'We have online monitoring of access to ensure that the agreed numbers are adhered to, which is working well along with permitted room (office and lab) occupancy numbers which are displayed on the doors. We do regular safety tours to ensure [compliance].'
Carmalt says the virtual safety briefings she gave to all returning groups were very effective. 'With the chat function many more students asked questions than in the [usual] safety briefings in a lecture theatre. We have an online form where people can feedback anonymously or provide their email which has been useful for sorting out issues.'
At Loughborough University, lab work resumed in mid-May, initially with a small group of researchers to test social distancing systems and with restricted access times. 'We quickly realised that working in the labs would be ok,' says head of department Steven Christie. 'The use of PPE, air flow plus the ingrained safety requirements in chemistry meant we were confident we could provide a safe environment within labs. Two metre distancing meant initially we used every other fume cupboard. Labs were marked up with areas to use/not use.' Other measures include regular surface wiping procedures, plastic door openers for each researcher and disinfectant stands near common surfaces like photocopiers.
'We were able to show these systems worked well,' he says. 'By early June, we were able to extend this to more researchers, and from mid-July, we will have all experimental researchers back in work.' Computational researchers and academic staff are still mainly working remotely.
In addition to the common list of measures, Swansea University's chemistry department has installed a Covid-19 symptoms monitor. 'This allows everyone entering a lab to take a non-contact temperature measurement for themselves,' Owen Guy, head of chemistry, explains.
Challenging times
The main challenge has been the enormity of the organisational task. 'Like many things associated with Covid-19, it was not really clear what was involved until we tried it,' says Le Brun. 'The effect of 2m distancing on occupancy limits was an eye opener.'
For neurodivergent, especially autistic people, public spaces can be hard to deal with

Colin Pulham, University of Edinburgh
A big issue is managing communal areas. 'It's the areas outside labs that have required more thought,' says Christie. 'When we are fully back to "normal", and especially for undergraduate labs, the key will be getting people into, out of and around buildings. Controlling the population density is key. We have write-up areas immediately adjacent to labs, and we had to restrict the use of these. We also had to restrict access to computer labs, kitchen areas and think about use of toilets.'
Bristol has produced protocols for every communal area, such as NMR and mass spec rooms. These instrument rooms must be booked and occupancy is limited. 'The challenge was to devise a system that would allow track and trace in case of a Covid-19 outbreak,' Pringle says. 'We now have a centrally administered database so we know where and when people are in the department at a given time.'
Colin Pulham, head of chemistry at the University of Edinburgh, has also been very aware of the need for quiet spaces for people. 'For neurodivergent, especially autistic people, public spaces can be hard to deal with. Areas where queuing is required can also be challenging. With social distancing measures, and the loss of other food preparation/purchasing options, we anticipated queuing for kitchen facilities. This could be stressful and challenging for our autistic staff and students.' As a result, they have instigated an autism-friendly quiet time in the social space. People are asked to stay away during this half-hour to help those who require a quiet space.
Getting the message across
Communication has been key, stresses Ostler. 'This sort of planning requires collaboration between multiple parts of the university, and clear communication is essential to make sure we know who is responsible for each element. Is it the janitors or the cleaners who need to maintain hand sanitisers? Will the department or estates be purchasing lab signage and PPE? The person designing the traffic flow needs to understand that one-way systems in labs may not work for staff moving reaction mixtures between fume hoods. The list of such questions seems endless.'
Generally, lab members have responded well to the challenges of the new lab landscape. 'Most of them are grateful to be back,' notes Christie. Guy agrees. 'People are responding positively and are happy to comply with the extra measures; they are very keen to get back in the labs. Researchers feel they can perform their tasks safely.'
Pringle notes that initially, people were very worried. 'So they appreciated the idea of controlled movements and have embraced the new measures. Although we monitor compliance, they police themselves and we've had no compliance issues.'
Carmalt backs this up. 'Feedback has been very positive and researchers have informed us that they feel reassured with all the safety measures. In particular, they like the one-way system throughout the department and the requirement to wear face masks around the department.'
All the new safety measures have required additional expenditure and many departments needed to restock PPE and reagents supplies after donating to frontline services. But most costs, such as increased cleaning and signage, appear to have been covered centrally rather than from departmental budgets.
'The more insidious cost, however, is loss of time for many research workers,' Ostler says. 'Although some may be able to get funding extensions, others may find their key experiments cannot now be completed. Where possible, universities and departments are supporting these staff and students, and the research support grant provided by the [Royal Society of Chemistry] to all members of HCUK has also allowed us to use small sums to help individual researchers try to catch up on lost time.'
The next challenge will come when undergraduates return in September. 'We'll have a different level of duty of care to those students and managing numbers in the building will be a much harder task,' Pringle notes.