Mentors can help us navigate all aspects of our working lives
'The delicate balance of mentoring someone is not creating them in your own image, but giving them the opportunity to create themselves.' This Steven Spielberg quote sums up the essence of the mentor–mentee relationship.
'A mentor isn't there to tell a mentee what to do or how to do it,' explains Laura Woodward, careers specialist at the Royal Society of Chemistry (RSC). 'Instead they should ask the right questions to help their mentee think about what their choices are and how they're going to make their decisions.'
Working with a mentor 'is a really proactive way of managing your career', Woodward adds. Many successful people attribute their success – at least partly – to a mentor.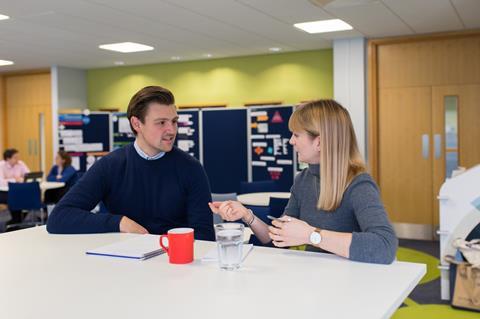 In society
Many companies, institutions and universities offer formal mentoring or buddy schemes, as do several professional bodies. The RSC, for example, has been matching mentors with mentees since 2015. This membership service currently has around 100 active relationships.
'We have got a good variety of mentors on the scheme across industry and academia,' says Woodward. Some are retired while others are only a step or two ahead of their mentees on the career ladder. All mentors receive training before they are paired.
I didn't realise how useful it would be

Gillian McEneff
Mentors and mentees in the RSC scheme tend to meet about every six weeks for approximately a year, either face-to-face, via Skype or on the phone. People sign up for the scheme for a variety of reasons, with typical examples including to achieve greater clarity around career goals and how to achieve them, to improve performance in a current role and to boost self-confidence.
'Our first meeting was just a chat to find out about each other and scope out different work-related things that I wanted to explore,' explains Gillian McEneff, senior scientific and technical advisor at the Office for Product Safety and Standards, who joined the scheme as a mentee in spring 2018. 'I went into it quite open-minded … I didn't realise just how useful it would be.'
McEneff had recently finished a postdoc and started her first lectureship position. 'I found that quite a big change and it wasn't entirely what I expected,' she explains. Paired with another London-based female lecturer, McEneff had the sounding board she needed. 'It was useful having someone who could relate to some of the experiences I had, and to help me think a bit more about certain situations and how I could potentially deal with them differently.'
McEneff's mentor helped her to realise that she wanted a new challenge. A few months later she joined the Office for Product Safety and Standards, where she provides chemical advice to support decision-making in government regarding product safety.
McEneff remains in touch with her mentor, and has now rejoined the scheme to be a mentor herself. 'I'm interested in approaching mentoring from the other side,' she says.
Pushing on
It is often in times of transition that a guiding hand is the most helpful. The Royal Society recognised this when it launched a mentoring programme in 2012 to support the early career researchers it funds in the first year of their fellowships. 'Around 80% of the people given the opportunity to be on the mentoring scheme sign up for it and we receive a lot of positive feedback,' explains Debbie Meikle, impact and engagement manager for grants at the Royal Society.
'The mentors are alumni of these fellowships. So they are at least five years ahead in their career, but usually further. Some will be quite senior career researchers. It's a real mix.' Typical discussion points include establishing independence, managing a research group, generating grants and work–life balance.
Build your board
Beyond these formal, one-to-one mentorships, there are more informal relationships; potential mentors are all around us. The evidence shows that it pays to be greedy here – the more mentors we have, the better. 'We all need a board of directors; a cohort of people to mentor us as we start and then continue along our career path,' explains Jodi Wesemann, assistant director for educational research at the American Chemical Society. Each director should have a unique skill set, so we can pick and choose who to lean on while we navigate various hurdles throughout our careers.
Wesemann believes that networking, especially through the local sections and technical divisions of chemical societies, is the best way to build up a diverse dream team of personal mentors. She recommends including mentors who have taken similar career paths to your own – these are the people that open doors for you. 'You may not see or talk to some of them very often, but they'll remember "this was a person that I talked with who really wanted to have this opportunity, let me put that person's name forward",' she explains. 'Those types of mentoring, or championing, relationships happen across the chemistry community.'