Michael K Shepard
Cambridge University Press
2015 | 350pp | £19.99
ISBN 9781107061446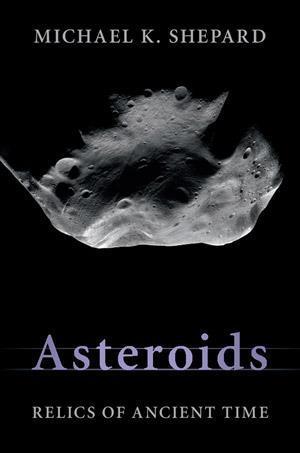 Michael Shepard has done for asteroids what Carl Sagan and Ann Druyan did for comets back in the 1980s. In Asteroids – relics of ancient time, the reader is treated to a glorious journey, interspersed with great pictures, poetry and quotes, that spans bygone beliefs to present day findings on the mysterious bodies that are asteroids.
I found the most enjoyable parts of the book were those sections with extracts from personal letters and historical papers, invoking the cautious excitement that comes with being a scientist. This perspective is one of many reasons I would recommend this book to non-scientists with a curiosity for worlds beyond our own. Shepard guides the reader through different hypotheses for several phenomena and the reasoning behind what came to be accepted to be true.
Those after a technical text will also be satisfied – for Shepard's explanations are nothing if not meticulous. Everything from asteroid classification conventions to the instrumental toolbox that astronomers have at their disposal is detailed and explained.
Saying that, creative descriptions and viewpoints – for example, at the end of chapter 6, where using asteroids to understand the universe's origins is likened to investigating foetal development by studying a 45 year-old human – make the book a pleasure to read.
But Shepard doesn't just bring us up-to-date; he goes beyond current missions and looks to the future. For example, the Chelyabinsk asteroid in 2013 highlighted more tangible reasons to want to explore asteroids than purely satisfying our innate curiosities. Understanding asteroids means we can better prepare to deal with potential threats. There's every chance that asteroids played some kind of role in life on Earth, but this could so easily go the other way. Thankfully letters are no longer scientists' first port of communication and the book describes how a global effort can be coordinated within hours to monitor near Earth objects that raise alarm bells.
Purchase Asteroids – relics of ancient time from Amazon.co.uk