James Wei
Wiley
2012 | 360pp | £33.50 (HB)
ISBN 9780470768174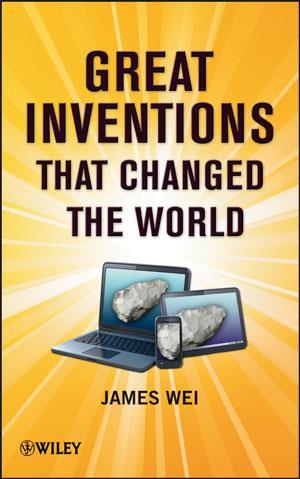 James Wei is an engineer. He has written a remarkable and wide ranging work that spans human development from the stone age to the computer age. Every page contains information that made me admire the breadth and depth of his knowledge. The book stands shoulder to shoulder with Molecules that changed the world, and in some ways I, as a chemist, found it more interesting because it covered areas I was not familiar with.
For example, in the chapter on water transportation, Wei quotes from the classic Greek poem Odyssey which explains how ships were built 3000 years ago. He even deduces the location of the mysterious island Ogygia from which Odysseus sailed. It is asides like this, of which there are many, that make this more than just a collection of technical details about inventions, and is why I believe that this book will still be around a hundred years from now.
Great inventions has chapters on work, health/reproduction, security, transportation, information and the 'good life'. This last topic deals with alcoholic drinks, sports, indoor games, perfumes, dyes – William Perkin gets a mention – painting, sculpture and musical instruments, especially the piano. The book ends by looking at future needs and the necessity of keeping up the flow of human inventions.
The book begins with a long chapter analysing how, when and where inventions were made and the impact these have had. Wei looks at the many problems that humans have faced and continue to face. He even suggests, at the end of chapter three, which is devoted to domestic life, food, clothes and housing, that global warming might not rank among the worst ills of the world and that there are many other crises we urgently need to address.
Of course as a chemist, I might wish that our science and industry had featured more prominently in Great inventions, but this is a minor quibble of what is undoubtedly a major work that is nothing less than superb.
Purchase Great inventions that changed the world from Amazon.co.uk. RSC members can obtain this book direct from the publishers for a 30% discount on the RRP. See the RSC member benefits page for details.