Peter Varey
PFV Publications
2012 | 367pp | £28 (HB)
ISBN 9780953844012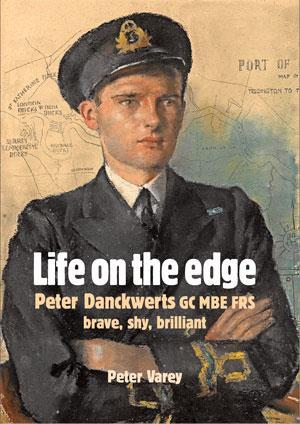 Few biographies of chemical engineers list and illustrate eight types of German explosive munition and describe how to defuse Italian frogmen's limpet mines, but such was the early life of Peter Danckwerts. Six weeks after joining the Royal Naval Reserve in 1940, chemistry graduate Danckwerts was awarded the George Cross for defusing unexploded bombs and mines in London. His research under Ronald Bell in the subterranean Balliol–Trinity laboratories at the University of Oxford had been on dilute aqueous solutions, but by 1942 he was deducing the mechanism of underwater enemy ordnance off Gibraltar. (Concurrently, Francis Crick was devising circuits to counter sweepers of British acoustic mines.) An injury to his legs caused by a beach mine in Sicily, however, caused Danckwerts' return to Combined Operations headquarters for the remainder of the war.
Danckwerts' initials (PVD) were also those of the paravane department of the Admiralty, in which his father Victor, a Dutch South African who eventually became an Admiral, helped develop the paravane mine cutter. Support for Danckwerts at Winchester College (explosives experiments were conducted at home) came from an affluent godfather and, following a year in Austria, he obtained a scholarship at Balliol. His process control notions first emerged during a year trying to improve the productivity of a fuller's earth factory in Surrey, but much broader experience came on a chemical engineering course at the Massachusetts Institute of Technology, US. This course was the prelude to a distinguished research career in chemical engineering, notably on mixing and gas absorption, including a two-year spell in atomic energy. A chair at Imperial College London was followed by 18 years (including a year in the US) as Shell professor at the University of Cambridge.
Peter Varey, a Cambridge chemist and experienced chemical engineer and editor, has utilised Danckwerts' non-academic writings and interviews with some of his many contacts to compose a careful and entertaining memoir. The pages with background of people, places, events, colleges and theories give the book an especial appeal to those interested not only in an idiosyncratic character, but also in the scientific history of the 20th century.
Purchase Life on the edge: Peter Danckwerts at Amazon.co.uk