Darryl Cunningham
Myriad Editions
2012 | 176pp | £11.99 (HB)
ISBN 9780956792686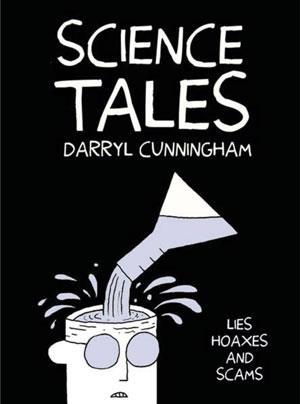 I recently obtained a commission to write a book about deceived wisdom: lies, hoaxes and scams, essentially all the stuff you thought was right, that's actually wrong. So, it was a bit of a shock when Darryl Cunningham's Science tales landed on my desk for review.
Thankfully, Cunningham has taken a rather different tack and debunks the denialists in several areas, from climate change and evolution to homeopathy and vaccination. He also takes an illustrative slant to his deconstruction of the modern myths in that his neat book adopts the genre of the graphic novel as the medium for his attack on the naysayers, conspiracy theorists and scaremongers. The approach makes for a quick read, but one that is not superficial, despite appearances, as the message contained in each tale is an important one. Science tales is a follow-up to Psychiatric tales and focuses on just eight topics, all deserving of a good debunking.
There are far fewer words in Cunningham's book than I plan to write for mine, but his clear narrative is expertly drawn and sometimes culled from photographic archives. This provides an eye-catching way to get across the important message that a science-based approach to understanding makes far more sense than one that is evidence-free.
Much of modern conventional wisdom is framed by the media, corporations and activist groups to attend to their own agendas. Cunningham draws out the fictions and lays bare the facts.
Purchase Science talesfrom Amazon.co.uk