Plinio Innocenzi, Luca Malfatti and Paolo Falcaro
RSC Publishing
2013 | 200pp | £39.99
ISBN 9781849736640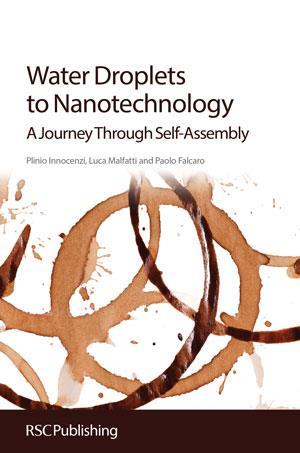 This short volume is for those interested in surface wetting by particulates and convective self-assembly. It is written in a playful Italian style that engages the reader in the clearly presented and organised text. The beautiful and clear colour illustrations are a particular feature.
The book is closely focused on evaporative self-assembly, starting from its physicochemical basis, which produces the coffee-stain and Marangoni effects (as exemplified by 'wine tears'). It then extends to applications in generating breath figures, the patterning of colloid particles at surfaces and fabricating photonic and porous materials.
Despite the subject matter, the book is more interesting than watching paint dry. It will be a valuable addition to the bookshelves of researchers working in colloidal patterning and, more broadly, soft matter scientists and nanotechnologists creating materials through interfacial self-assembly.
Purchase Water droplets to nanotechnology