Abbott has beaten off rival bids to acquire its cholesterol-franchise partner, Solvay Pharmaceuticals.
US-based pharmaceutical firm Abbott has continued its recent buying spree and bought Solvay's pharmaceutical division in a deal worth €5.2 billion (?4.7 billion). The unit, which was put up for sale in April by the Belgian chemicals company, has sales of around €2.7 billion a year and represented about a quarter of its annual sales.
Nycomed had been seen as the front-runner in the acquisition race to buy the unit, but it needed to fund the deal using debt and Abbott has the cash in the bank. UCB and Takeda were also believed to be in the running.
Abbott had denied it was interested in the Belgian company earlier in the year, when the Financial Times reported it was preparing a bid in July. 'My suspicion is that they were actually in the running all the time,' says Nigel Borshell, senior advisor at PharmaVentures. The deal consists of an up front payment of €4.5 billion in cash, milestone payments of up to €300 million and the assumption of around €400 million of debt. Despite having already spent over $2 billion (?1.2 billion) this year buying Evalve, Wockhardt, Visiogen and Advanced Medical Optics, the company is apparently still in the hunt for more acquisitions.
Having gone down the unusual route of selling off its pharma business to focus on chemicals, Solvay is left in a much better financial position. 'It wanted to invest in its core chemicals and plastics businesses, but its big debts meant it was short of cash,' Borshell says. The company says it will invest in 'high value activities and strategic projects' in these core markets, such as new products with a low energy footprint that will reduce the cyclical nature of its portfolio.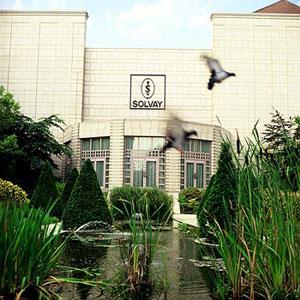 According to Joshua Owide, senior analyst at Datamonitor, the deal revitalises Abbott's pipeline. 'Without the positive impact of the acquisition, Abbott's prescription medicine business stands to grow at a very slow compound annual growth rate of 0.2 per cent from 2008 to 2014,' he says. 'A significant proportion of its revenue stream comes from products that will see generic erosion over the next few years. It has an under-strength pipeline that will do little to mitigate this drop: it only has three new compounds in late-stage development compared to a Big Pharma average of 10.' The deal also includes Solvay's vaccine business and the acquisition will enable Abbott to enter the increasingly lucrative vaccine market.
However, the deal doesn't just refill Abbott's pipeline - it will also save them a fortune in royalty payments. In 2005, Solvay bought the French company Fournier, including the drug fenofibrate which is used in various combination cholesterol lowering medicines. The North American rights were licensed to Abbott, and last year they paid about $500 million in royalties - the single biggest earner for Solvay's pharma business.
'These royalties were forecast by analysts to rise to $880 million by 2014, and beyond that it would be touching $1 billion, with patent expiry not until 2019 or thereabouts,' says Borshell. 'Abbott had the cash on its balance sheet, so by eliminating a growing requirement to pay royalties it's a great deal. It would be spending $660 million a year amortizing the $6.6 billion cost of the acquisition - similar to the amount they would be paying in royalties - so the income from the rest of Solvay's products is a bonus.'
Sarah Houlton