Novartis and Pfizer look to generics as the patent cliff looms
With pharmaceutical firms around the world facing a patent cliff that will see drugs worth over $63 billion (?40 billion) lose patent protection over the next five years, pharmaceutical firms have been rushing to ensure they minimises their losses by expanding their generics businesses and reach into emerging markets.
Novartis has just agreed to pay $1.2 billion for the injectable generic drugs business of Austria's Ebewe Pharma, which will give the Swiss pharma company's generics unit Sandoz access to a range of generic anticancer drugs that includes paclitaxel, carboplatin and doxorubicin - standard therapies for various cancers.
Meanwhile, Pfizer has expanded its licensing agreement with Indian generics maker Aurobindo to include 55 new oral drugs and 5 new injectable drugs that cover a wide range of disease areas including antibiotics, anti-infectives, cardiovascular and central nervous system disorders in more than 70 countries. The world's largest drug maker has also licensed 15 injectable products from Indian generics firm Claris Lifesciences.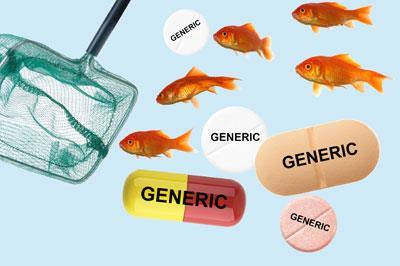 Both GlaxoSmithKline (GSK) and Sanofi-Aventis have also been forging ahead in the generics market. Sanofi-Aventis went on a South American shopping spree at the beginning of April, buying two generics companies within the space of a week - and in the process became Latin America's leading generics manufacturer.
At the beginning of May, GSK bought a 16 per cent share of its South African generics partner, Aspen Pharmacare, in a deal the firms are touting as a $418 million asset-swap. In return for the stake in the company, GSK will hand over the global rights to eight of its drugs and a manufacturing plant in Germany.
Concerted push
In 2005, Novartis took the step of making a big push into the generics arena when it spent an unprecedented $8.29 billion to buy German generics firm Hexal and US-based Eon Labs. At the time, the deals made its Sandoz generics unit the largest generics producer in the world. Since then it has slipped into second place behind Israel's Teva.
According to pharmaceutical industry analysts IMS Health, annual sales of injectable generic drugs were worth between $10 and $12 billion in 2008, with anticancer drugs accounting for over 30 per cent of that figure. With injectable anticancer drugs generating sales of around $9 billion set to lose patent protection by 2015, the market looks set to continue growing rapidly.
'The addition of Ebewe Pharma's leading portfolio of oncology medicines fits our strategy and improves our ability to help cancer patients around the world by providing easier access to therapies,' says Novartis chief executive, Daniel Vasella. 'These medicines will remain the backbone of multi-drug treatments in the fight against cancer, one of the world's leading causes of death.'
Sandoz has said it will form a 'global centre of excellence' at Ebewe's headquarters in Unterach, Austria, which will be led by Ebewe's current chief executive Friedrich Hillebrand and will take advantage of Ebewe's 'many planned near-term launches'.
Meanwhile, Pfizer's rationale for the current deals has been to help deliver drugs in regions where there are unmet needs.
'These agreements advance our goals to expand our steriles portfolio and provide hospitals and patients with a wide offering of affordable medicines they can trust,' said David Simmons, president of Pfizer's Established Products business unit. 'Pfizer's reputation for high quality and supply reliability is unrivalled in the industry, and this is critical in the area of sterile injectables.'

Matt Wilkinson
Enjoy this story? Spread the word using the 'tools' menu on the left.