With oil prices rising, the chemical industry is looking for alternative feedstocks, could biosuccinc acid be the answer?
Faced with escalating oil prices that are likely to continue rising, the chemical industry is trying to find alternative sources for a number of the chemical ingredients derived from petroleum and other fossil-sources.
One such ingredient is succinic acid, which is currently made mainly from fossil-derived maleic anhydride and provides the basic four-carbon backbone for a wide range of products including pharmaceuticals, coatings, polymers and resins.
At least five groups are gearing up to develop commercial capacity for 'biosuccinic acid' - made from the fermentation of renewable feedstocks such as sugars by microorganisms - as a greener alternative to fossil-derived material.
Succinic acid is currently only a niche product, with the 30,000 tonnes produced a year creating a market worth $225 million (?139 million). Market research firm Frost & Sullivan believes the market will expand six-fold to 180,000 tonnes by 2015, thanks largely to the introduction of biosuccinic acid
The companies investing in biosuccinic acid clearly believe these projections are reasonable, given that, collectively, three of them intend to bring over 140,000 tonnes of capacity online by 2012. They base their optimism on potential new markets for biosuccinic acid, which dwarf the current use of the ingredient.
Among the largest emerging applications is for the production of 'green' 1,4-butanediol (BDO), a chemical widely used in a range of applications including the production of engineering plastics, Lycra (spandex) fibres and solvents with estimated annual production of around 1.4 million tonnes a year.
Combining BDO and biosuccinic acid also opens up the possibility of greener biopolymers, such as polybutylsuccinate (PBS), which is used in biodegradable packaging films and disposable cutlery. The market for PBS is currently small - around 10,000 to 15,000 tonnes a year - but could swell with a 100 per cent biobased product.
Another potential market is in polyester polyols and polyurethanes, currently dominated by the use of adipic acid as a precursor. Companies are looking at replacing the six-carbon adipic acid with four-carbon biosuccinic acid, providing the costs become comparable, because adipic acid production is a messy process that produces a lot of carbon dioxide.
Couting the cost
'While succinic acid is a great platform molecule, it is not used much today because of its cost,' says Jean-Francois Huc, chief executive of DNP Green Technology, one of the companies that has set up a facility to make biosuccinic acid.
Succinic acid has historically cost $3-$5 per kilo, depending on the prevailing oil price, much higher than other four-carbon platforms such as petroleum-derived maleic anhydride which sells at about $1.5 a kilo. That lower price explains why maleic anhydride represented a market of 1.6 million metric tonnes in 2008, eclipsing succinic acid and consigning it to niche applications.
DNP Green is betting that its investment in producing biosuccinic acid will transform the ingredient from a specialty to a commodity chemical. It has set up a joint venture called Bioamber with agricultural research and development company ARD that has just commissioned a €21 million (?18 million) facility in Pomacle, France, with an annual capacity of 2,000 tonnes. Their process uses an Escherichia coli (E. coli) strain developed specifically to produce succinic acid, with wheat-derived glucose currently being used as the substrate.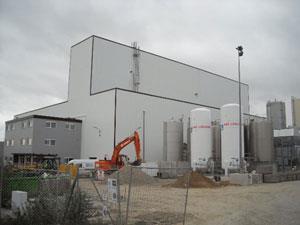 The purpose of the Pomacle plant is to showcase the production technology, which is available for license by other parties, according to Huc. DNP Green itself plans to invest in the plants alongside these partners.
The company says it is in late-stage negotiations with companies in North America and Asia and expects to have two plants - with an initial capacity of 25,000-30,000 tonnes each - operational in 2012. Huc believes Europe is a more difficult location as the higher costs of feedstock and energy makes the cost of goods around 20 to 25 per cent more expensive.
Getting in on the act
Another biosuccinic acid hopeful, Dutch chemical and biotechnology giant DSM, has a good view of the sector as it is one of the major producers of fossil-derived succinic acid. The new applications could create a market 'at least ten times' the size of the current succinic acid demand, according to James Iademarco, DSM's vice president for bio-based chemicals and fuels.
In early 2008, DSM formed a partnership with France's Roquette Fr?res to develop biosuccinic acid, and the two companies have been supplying kilo-scale samples for over a year from a pilot plant at Roquette's site in Lestrem, France. They are looking at using both bacterial and non-bacterial production methods, including E. coli, and are initially using glucose as a feedstock.
The partners recently completed construction of a demonstration plant at Lestrem that can produce 'hundreds of metric tonnes' a year, said Iademarco, and are currently validating the facility. DSM hopes to sell material from the demo plant this year, and at present is planning to scale-up to a facility capable of producing 10,000 to 20,000 tonnes a year by mid to late 2011. The company believes it can achieve full economies of scale at around 50,000 tonnes.
Meanwhile, US-based Myriant, which span out of bioethanol specialist BioEnergy International last year, is among the companies which sees the main potential for biosuccinic acid as lying in the BDO market. It has just been helped in its ambitions with a $50 million grant from the US Department of Energy to help build a commercial-scale facility in Louisiana.
The company is currently making biosuccinic acid at the 20,000 litre bioreactor scale in E. coli, using unrefined sugar as a feedstock. The next stage is to modify a leased facility with an annual capacity of 15,000 tonnes, which should be operational as early as the fourth quarter of 2010. Thereafter, the DoE grant will be used to help construct a greenfield plant - also with 15,000 tonne capacity and due to come online before the end of 2011 - but with the infrastructure to allow for expansion to 70,000-80,000 tonnes in 2012.
'Our initial target is the smaller, existing market for succinic acid,' says Cenan Ozmeral, Myriant's general manager for speciality chemicals. 'From there we will address the BDO market, and then the use of succinic acid to replace adipic acid in some applications.' He believes total penetration of these applications with biosuccinic acid would equate to a $10 billion market.
Last October, BASF linked up with Purac subsidiary CSM to make biosuccinic acid using a BASF-developed bacterial strain (Basfi succiniproducens) and glycerine or glucose as a feedstock. They intend to start production of "commercial quality and volumes" in the second quarter of 2010 from a Purac facility in Spain.
BASF is also a major producer of BDO, although Maren Bauer of BASF Future Business would not be drawn on whether its aspirations for biosuccinic acid lay in that area. She did say the company is interested initially in its potential to supply customers which make biopolymers such as PBS. BASF is active in this sector itself with petro-derived biodegradable polymer products, EcoVio and Ecoflex, which have applications in green food packaging.
Finally, Mitsubishi Chemical Company has been making PBS from fossil-based succinic acid under the GS Pla brand, and has developed its own process for making biosuccinic acid from biomass, although is not yet making details of its process public. The company was formerly collaborating with Ajinomoto on the project.
Last September Mitsubishi signed a deal with Thai company PTT to develop biosuccinic acid-based PBS, with the aim of setting up a joint venture by the end of June 2010.
Looking to the future, Huc believes there is a great opportunity for biosuccinic acid, not least because of growing political and regulatory pressure on chemical companies to rein in their carbon footprint. Industry has also recently suffered the consequences of a spike in oil prices above $100 a barrel, and there is every chance this will recur. Decoupling the cost of the ingredient from the prevailing oil price will reduce pricing volatility and ensure profit margins can be maintained.
Meanwhile, the main risk for the biosuccinic acid players is likely one of perception, particularly as there have been few successes in the bioproduction of chemicals to date.
DuPont and Tate & Lyle are operating a 1,3-propanediol plant that is reported to be performing well, but has stopped short of starting a second phase of investment. In the area of bioderived polylactic acid, both Dow Chemical and Teijin have pulled out of Cargill venture NatureWorks, while a polyhydroxybutyric acid copolymer (PHA) project between Metabolix and ADM has suffered delays and cost overruns.
'A lot of large chemical companies are still looking at bio and saying "prove it",' says Huc. 'In the sphere of succinic acid, if any of the early players fail it will undermine the credibility of the whole industry.'
Phil Taylor
Interesting? Spread the word using the 'tools' menu on the left.
Also of interest

The use of palm oil to make biodiesel has incited environmental and humanitarian concerns. Jane Qiu unpicks the controversy and the possibilities

20 June 2007
Independent research groups have arrived at different ways of converting sugars into fuels and feedstock