Zheng Xiaoyu awaits trial on corruption charges
Hepeng Jia/ Beijing, China
As Zheng Xiaoyu, former chief of China's State Food and Drug Administration (SFDA), awaits trial on corruption charges, pharmaceutical industry insiders are hoping that the case will spur renewed efforts to clean up their business.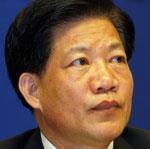 Zheng retired in June 2005, but was detained for alleged corruption in December 2006. In early April, it emerged that Zheng had taken bribes of at least 5.5 million yuan (?357, 000) from certain Chinese pharmaceutical companies to approve their medicines.
'Zheng's fall is definitely good news, which will force the drug regulators pay more attention to the real quality of new drug application and not to take bribes,' says Hou Dakun, president of Beijing-based pharmaceutical consulting firm KevinKing.
Hao Heping, head of the agency's medical equipment division, was sentenced to 15 year imprisonment in November 2006 for taking bribes. Cao Wenzhuang, who ran the medicine registry division of the SFDA, has also been arrested.
Harassed by Zheng's scandals, the SFDA has taken a series of steps to clean up its drug evaluation and approval process, including switching important positions every three years; re-evaluating formerly approved medicines; forbidding SFDA officials to join banquets relevant to their business; and banning them from accepting small gifts worth as little as 200 yuan (?13).
'In the short term, the measures would stop those unqualified drug applications being approved,' Hou told Chemistry World. 'However, the drugmakers' struggle to get their generics ratified as new drugs could still create a strong incentive for them to bribe officials or seek other illegal strategies.'
Although few of China's medicines are based on new compounds and biologics, Chinese pharmaceutical firms have been successful in registering their medicines as new drugs by changing their dosages and brand names. The loose definition of what makes a new drug - and the looser regulation on application in the SFDA's drug registration regulations - has allowed pharmaceutical companies to brand many of their products as new, giving them greater pricing power.
Peng Zhaohui, chairman of Shenzhen Sibiono, which developed the world's first commercialised gene therapy in 2003, believes most Chinese drugmakers do not have the capacity to develop genuinely new pharmaceutical compounds or biologics. 'The SFDA should hire experts from the US FDA and European drug regulatory agencies to help them make more scientific and operable measures,' Peng said.
The SFDA's new head Shao Liming told media in late March that his agency is revising the Drug Registration Regulation to tighten the criteria for new drugs.
But Yu Zailin, president of Beijing Weiming Fortune Drug Research, cautions the revision could further increase the power of SFDA officials and enable some corrupted officials to seek new interests. 'The SFDA also needs to be supervised,' Yu said.