Firefighters are exposing themselves to almost ten times the acceptable level of 75 volatile organic compounds while putting out vehicle fires
A study by US scientists has highlighted the need for new respirators for firefighters.
Although firefighters usually wear self-contained breathing apparatus (SCBA) when tackling structural fires, this is a much less common practice when dealing with vehicle fires. The potential health risk from vehicle fire fumes is considered minimal, as the fires are outdoors and are usually extinguished rapidly. In addition, SCBA is cumbersome to wear and takes a long time to put on.
However, Kenneth Fent and his team at the US Public Health Service and the National Institute for Occupational Safety and Health, Cincinnati, have shown that firefighters are actually exposing themselves to almost ten times the acceptable level of 75 volatile organic compounds, including benzene, acetonitrile and acetone.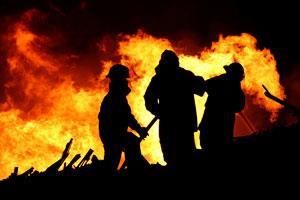 They collected air samples from the breathing zone of firefighters as they put out a staged fire. The researchers then analysed the samples and compared the exposure levels to the exposure limits for each detected chemical. They calculated a hazard index - a measure of the risk to a mixture of chemicals - of 9.2 times the acceptable amount, based on the ten analytes with the highest hazard quotients (a ratio of breathing zone concentrations against short term exposure limits), such as carbon monoxide and 1,3-butadiene.
'Developing alternatives to SCBAs for firefighters is an important area of research,' says Fent. 'The challenge is developing air purifying respirators with cartridges that are effective against the complex mixtures that firefighters are likely to encounter in these environments.'
'Their [firefighters] exposure to products of combustion at [vehicle] fires has not been well characterised,' explains Claire Austin, an expert in toxicology at Environment Canada, Ottawa. 'This study highlights the need to fill this knowledge gap.'
The researchers are now looking to investigate fire fumes from other types of vehicles, such as hybrid and electric cars, and to use new personal monitors that employ whole air sampling principles to collect gases and vapours to measure even more chemicals.
Yuandi Li
Link to journal article
Assessing the risk to firefighters from chemical vapors and gases during vehicle fire suppressionKenneth W. Fent and Douglas E. Evans,?J. Environ. Monit., 2011, 13, 536DOI:10.1039/c0em00591f