Paint analysis technique adapted to help find criminals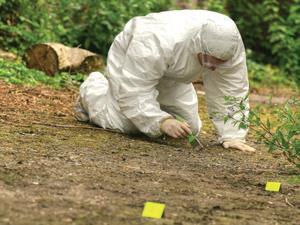 A new forensic tool, being developed by scientists in Canada, uses a combination of
spectroscopy and statistical analysis to determine a person's gender and ethnicity
from a thread of head hair.
Evidence left at the scene of a crime can be in many different forms including fingerprints, blood, fibres, paint chips and hair. It is the role of forensic scientists to analyse this evidence, which is often only present in very small amounts, to help find the culprits. In previous research, blood has been used to identify gender and ethnicity, but a problem with this is that blood can deteriorate quickly and can easily be destroyed or contaminated.
Hair, on the other hand, is very stable. Most elements in hair originate from sweat secretions, and their composition alters with diet, ethnicity, gender, the environment and working conditions.
'For hair, currently available methods can be time-consuming and require the use of corrosive solvents and reagents,' says Diane Beauchemin of Queen's University in Kingston. 'This led us to develop a method that is easy, quick and accurate, by adapting a method previously developed by our group for the analysis of red paint.'
In this proof-of-concept work, hair samples were washed with water and hexane, before being ground into powder. Specific elements in the hair were identified using solid sampling electrothermal vaporisation inductively coupled plasma optical emission spectrometry with multivariate analysis. This approach was advantageous as no digestion step was required.
Beauchemin and her team found that they could discriminate gender using magnesium, sulfur, strontium and zinc; while lithium, molybdenum, sulfur, strontium, chromium, potassium, nickel, zinc and lead were used to tell apart people of East Asian, Caucasian and South Asian ethnicities.
'This is a very interesting discrimination approach that is surely suitable for the field of forensic analysis,' says Jan Halámek at the University at Albany, State University of New York, US, a forensic biosensing expert. 'Moreover, I think there is great potential to expand it.'
No false positives were encountered with the samples when using linear discriminant analysis. Only three general ethnicities were tested on this occasion, so now the goal is to refine the test to enable it to look for more ethnicities. It is hoped that one day the test may even be able to distinguish age and geographical origin. 'The beauty of the method is that measuring more elements does not take more time, as their detection is simultaneous,' adds Beauchemin.