Bhopal campaigners have objected to Dow's sponsorship of the London 2012 games, but have been overruled
The Indian Olympic Association has ruled out a boycott of the London 2012 Olympic Games, rejecting calls from human rights campaigners and some Indian athletes protesting about Dow Chemical's sponsorship of the games. At issue is Dow's connection with the Bhopal toxic chemical leak in 1984, one of the world's worst industrial accidents that caused huge loss of life. The decision to allow Dow to provide the decorative fabric 'wrap' encircling the Olympic stadium has generated controversy for the games' organisers.
Dow is the 'official chemistry company' of the Olympic movement and is one of 11 Worldwide Olympic Partners. The London Organising Committee of the Olympic Games (LOCOG) announced in August that Dow would provide the wrap after the UK government decided it could not justify the ?7 million funding. Dow is also providing other products, such as the hockey pitch and the flooring in the media centre.
The sustainable wrap will comprise 336 panels - each about 25m high and 2.5m wide. Made from resins of polyethylene and polyester rather than PVC, the wrap will include recycled material. Printing on the wrap will use UV-curable inks to reduce emissions. The company is also investigating options for re-use of the wrap after the Games.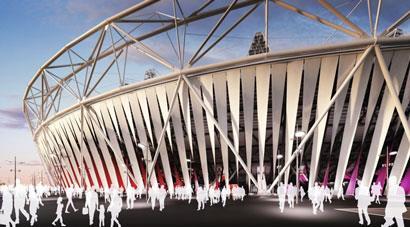 Dow took over the US-based company Union Carbide, which held a majority share in the Indian subsidiary that operated the Bhopal pesticide plant, in 2001. Union Carbide paid $470 million (?288 million) in compensation in 1989. But survivors' and human rights groups believe this was inadequate. They have been campaigning for Dow to address outstanding demands and the ongoing impacts of the disaster, such as site cleanup.
Dow points out that it never owned or operated the Bhopal plant, and the legal claims surrounding the incident were resolved in 1989, long before Dow acquired Union Carbide. The company says its position as a Worldwide Olympic Partner represents its 'vision for the future'.
'Dow's proposal for the wrap was by far the strongest and looks like being a brilliant sustainable solution,' says a spokesman for the LOCOG. 'From a legal point of view, Dow assured us that it had no responsibility for what happened in Bhopal. It never owned the plant and Union Carbide India had been sold off before Dow took over Union Carbide in 2001.'
Opposition to Dow's sponsorship deal has been led by Shivraj Singh Chauhan, chief minister of the state of Madhya Pradesh, which contains the town of Bhopal. In a letter to India's sports minister Ajay Maken, he writes that it is inappropriate for a company linked to such a tragedy to be allowed to sponsor an event 'considered as an ultimate expression of fair play, honesty and healthy endeavour'.
Maria Burke