Amid Israel's war on the Palestinian militant group Hamas following its surprise coordinated attacks on 7 October, research at Israel's major universities is effectively paused. Many of the graduate and postdoctoral researchers have been called up to serve in the military, as well as some principal investigators (PIs), and many international students and postdocs have returned to their home countries. The attacks by Hamas that preceded this Israeli assault on Gaza are now estimated to have killed more than 1400 people.
Making contact with scientists in universities in Gaza has proven difficult as the territory has been seriously disrupted by bombing and power cuts. The Islamic University of Gaza reported heavy damage from Israeli bombing on 9 October, including 'major' destruction to equipment and labs, but no further information has been forthcoming from the university. The Palestinian Health Authority estimates that Israel's bombing and siege of Gaza has killed more than 3000 Palestinians.
In Israel, Renana Poranne, a physical organic chemist and assistant professor of computational chemistry at the Technion in Haifa, has seven people in her research group including two foreign postdocs. Her Indian postdoc has already left on a flight provided by the Indian government, and the other postdoc from Poland has also gone home.
Poranne has relocated one of her master's students, who is Cuban, to her mother's house, which is equipped with a shelter, near the university. To help withstand missile and other attacks, all residences in Israel must have access to a so-called 'safe room' with reinforced concrete walls and steel doors.
This is sadly true. Our labs and offices are empty. Some foreign students have already left while others await rescue flights to leave. Many Israeli students have been called up to reserve duty.
For those of us still here, concentrating on science is almost impossible. https://t.co/fATns88nqU

— Renana Poranne (@Aromaticist) October 13, 2023
One of her group has been called up for military service, as has a new faculty member in the chemistry department who has four children.
Many fear that overseas students who depart may not return. 'That could be devastating for our science, because we have so many foreign postdocs and students here,' Poranne tells Chemistry World. She estimates that in the Technion's chemistry department about 40% of the graduate students are from abroad. But she is hopeful, noting that everyone from her team who has left has unequivocally said that they will return.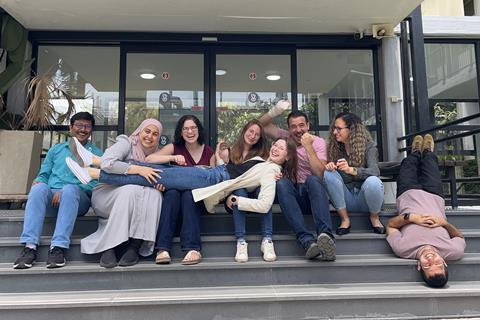 Meanwhile, as her group is purely computational, they have opted to work remotely. However, Poranne says worry over the war means that not much work is being done.
Several of her group are volunteering to arrange food and other desperately needed items for displaced Israelis, or to babysit children as schools are closed. Some researchers in other labs across Israel are also volunteering to arrange shelter for people and coordinate the delivery of breastmilk to babies who are orphaned or whose mothers are deployed in the military.
Ofer Yizhar, a neuroscientist at the Weizmann Institute of Science in Rehovot, has about 15 people in his research group. Most of them are Israeli, and about half of them – including some women – have been drafted since the events of 7 October.
Several of his group are international students. They have all left Israel. The last one to go was postdoc Jonas Wietek, who was on the waiting list for evacuation flights back to Germany and flew out on 13 October.
'Completely demolished'
The Palestine Academy for Science and Technology (PAST) says the war in Gaza has caused 'extensive destruction' of educational infrastructure in the area, including libraries and classrooms, as well as the tragic loss of life among faculty, technicians, staff, and students. PAST said in a statement that the blockade of the Gaza Strip, imposed by Israel and Egypt after Hamas came to power in the area more than 15 years ago, has already hindered the development of essential infrastructure for teaching and research in Gaza and restricted the mobility of foreign students and faculty.
Michel Hanania, the coordinator for the Palestinian Chemical Society and chair of the chemistry department at Bethlehem University in the West Bank, reports that the Islamic University of Gaza is totally destroyed, including its science building, and Al-Azhar University has sustained significant damage. Rami Morjan, an organic and medicinal chemistry professor at the Islamic University of Gaza, confirms that his university has been 'completely demolished'. He reports that one of his research assistants has been killed, along with her family, and her four-year-old daughter is the sole survivor. Morjan and his family have left Gaza City for safer ground.
'The war is total destruction in Gaza, and I am sure that when things get better the priority will not be to rebuild these research institutes but rather to restore infrastructure like hospitals, roads, water supplies, gas and electricity,' says Hanania, who doesn't live in Gaza, but rather in the West Bank where the situation isn't quite as dire. 'Even if the war ends tomorrow, I am sure that universities will not open for at least three months.'
At his university in Bethlehem, Hanania's lab remains essentially empty. It is also almost impossible to get standard chemicals and reagents he requires. He has essentially given up on a grant he had received to buy research equipment, including UV spectrometers.
Even before this crisis, Hanania says, there were many restrictions on importing chemicals for research – like sulfuric acid, nitric acid and glycerine – into Gaza and the West Bank, but now it's completely impossible. 'If I want to get some essential materials for my research those need to be imported through Israel – we cannot order them from abroad as we need permits certifying that they will be used for research and teaching purposes only,' Hanania explains.
Hanania and fellow professors have been trying to teach online, but that has proved difficult because of internet connectivity issues and dire personal circumstances preventing students from participating.
'Normal research in chemistry cannot happen because we are only able to teach remotely a little bit and it is not safe for people to come to the university or the lab,' he says. Hanania has visited the university only twice since the war broke out, even though he only lives a few kilometres away.
The 10th Palestinian International Chemistry Conference was supposed to take place on 1 November in Hebron, but it has been postponed until March or April 2024 because of the war. The conference last convened in 2019.
Long-term future
Ehud Keinan, the former dean of chemistry at the Technion and longtime president of the Israel Chemical Society who in January will become president of the International Union of Pure and Applied Chemistry (Iupac), lives in a small village in northern Israel. He still runs a research group of five at the university, although two of his postdocs from India have left. 'They grabbed the offer from the Indian embassy for a free plane ticket back home,' he recounts.
Keinan is very optimistic about the future of Israel and its science. 'All these people who left [for] other countries will come back – how soon will depend on the developments but my prediction is that within a month or so they will be back,' Keinan states. He says the Technion still pays those who have returned to their homeland, where they keep working on manuscripts, grant proposals and other tasks.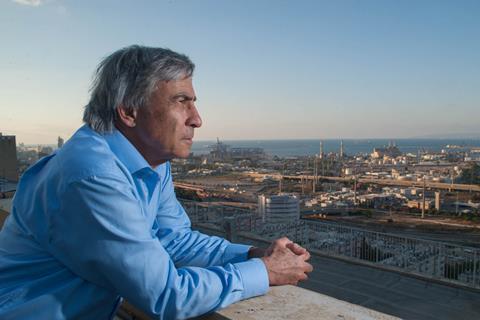 Dan Shechtman, a professor emeritus at the Technion who won the chemistry Nobel prize in 2011 for the discovery of quasicrystals and lives just north of Tel Aviv, is also hopeful. 'They will come back and continue to do research in the 10 major universities in Israel,' he says. The proportion of foreign students to Israeli students in the science departments of Israel's universities is much smaller than in other countries like the US, according to Shechtman.
'Of course, there is an impact, but it's not a major impact because of that ratio,' he continues. 'We will still receive foreign students and Israelis are usually welcome around the world by universities and research institutes for studies and for postdocs – I don't think this will change.'
But others like May Moshkovitz and Natanel Jarach, who are chemistry PhD students in the same research group at the Hebrew University in Jerusalem, are more worried.
They are both concerned that collaboration with other countries will be irreparably damaged. Jarach notes, for example, that the Hebrew University has just begun research partnerships with Muslim nations like the United Arab Emirates and Morocco, and he feels fairly confident that these have no future now. They also note their lab stands empty most of the time.
Matchmaking effort launched
Jarach is also troubled by anti-Israel sentiment in many universities in other countries, including in the US. 'Some of us, me for example, want to do a postdoc abroad in the future, and now I need to think about where I can and cannot go because of the atmosphere in these areas about Israel, Israeli scientists and Israeli people,' he says.
Wietek agrees that the current situation in Israel doesn't bode well for researchers. 'Before this, doing research in Israel was not easy – lab supplies and bigger instruments all had to be imported and stuff you get in Europe or in the US overnight can sometimes take eight weeks to arrive in Israel because it must be shipped,' Wietek says. But now, with flights to Israel halted and mostly only essential goods coming into the country, he expects that research will be even more difficult.
In the meantime, there is at least one major effort underway to match chemists and other researchers displaced by the tumult in Israel with host institutions and labs in other countries. Yizhar has launched an initiative to coordinate the hosting of scientists from Israel at research institutions around the world. 'The idea is to set up a database where trainees can look up researchers out of the country who might be relevant to their work so that we can try to make a match,' he explains.
'We got a huge response from this,' recounts Wietek. 'It's mainly for internationals, but maybe there are also other people affected in Israel that are not internationals, like those who are disabled.'
However, to Yizhar there are much bigger worries right now. '[The war is] really an existential concern at the moment, so if science suffers a blow, I'm sure that will recover,' he says.
The article was updated with comments from Michel Hanania and Rami Morjan on 20 October 2023.

Rebecca became the US Correspondent for Chemistry World in September 2014, based out of Washington, DC, after writing for the magazine on a freelance basis since 2007.
View full profile