Their pigment lasted longer than their culture, but how did Maya chemists make their long lasting blue colour?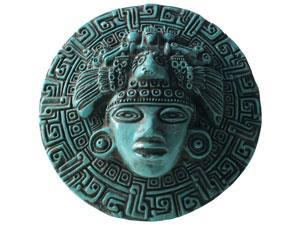 Maya art is full of shades of blue, from a bright vivid blue to almost green. What's more, the early Maya chemists who made these colours managed to make pigments that are incredibly stable. What we see today is very similar to what those ancient Maya used on their walls, pottery and maybe even on their human sacrifices. The colour has lasted longer than the civilisation and today's modern chemists have been trying to work out why.
The pigment is essentially made from the same dye that's used on our jeans, indigo, as well palygorskite, a porous clay. Antonio Doménech's team at the University of Valencia and the Polytechnic University of Valencia, Spain, have been trying to establish how the two components are bound together in an attempt to understand its stability, including where the indigo dye sits – on the surface of the clay or in the pores.
The physicochemical questions are still not completely solved but Doménech's team suggests that the process of pigment production was refined through the centuries, just like any chemical process. During analysis they found dehydroindigo, an oxidation product of indigo, in the pigment, as well as indigo. As dihydrogen is yellow, by changing the heating process used to make the pigment the Maya could alter the hue. The ancient Maya, it seems, are still giving up their secrets.