A new iodide-free electrolyte could bring low cost dye-based solar cells closer to the market
Researchers have moved a step closer to overcoming one of the key hurdles to developing low-cost solar cells based on dye-coated titanium dioxide.
Dye-sensitised solar cells (DSCs) were invented by Michael Gr?tzel and Brian O'Regan some 20 years ago, and consist of a thin film of titanium dioxide coated with a ruthenium-based dye, in contact with a redox electrolyte.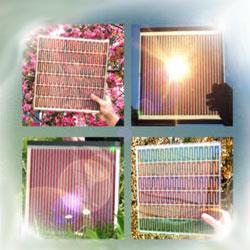 While dye-based systems are less efficient in converting solar energy than photovoltaic cells made from silicon, they are likely to become cheaper to manufacture and be more versatile in a number of applications, making them an attractive commercial prospect.
When light energy enters the cell it ejects an electron from the dye, which enters the TiO2 and diffuses to an electrode. The electrolyte then supplies electrons back to the dye to regenerate it. However, finding a suitable electrolyte has proven to be a significant challenge.
The most efficient electrolyte that has been found so far is based on an iodide/triiodide couple. However, this absorbs a proportion of potentially useful light and is corrosive to silver-based electrical contacts, causing difficulties in manufacturing a robust and long-lasting device. A number of iodide-free systems have been investigated, but the cells have significantly lower efficiency in converting light to electric power.
Now, a team led by Gr?tzel, who is at the Swiss Federal Institute of Technology in Lausanne, has demonstrated a new electrolyte based on a disulfide/thiolate redox couple using 5-mercapto-1-methyltetrazole. Cells using this electrolyte were shown to have a power conversion efficiency of 6.4 per cent under standard illumination test conditions - comparable to similar iodide-based systems and much higher than other iodide-free cells. The electrolyte avoids the corrosion issues associated with iodide and has improved optical properties.
'An efficiency of 6.4 per cent achieved under full sunlight sets a new benchmark for iodide-free DSCs,' say the researchers, who add that the novel redox couple 'offers a viable pathway to develop efficient DSCs with attractive properties for scale up and practical applications'.
Neil Roberston, who researches DSCs at the University of Edinburgh in the UK says, 'This is certainly a very promising step forward. It is not the first time that alternatives to iodide have been put forward, but this one outperforms the previous best alternatives. The electrolyte is a known problem with the manufacturing and long-term use of these cells, so it is important to address these issues for the future of these devices and to open up their application more widely.'
Simon Hadlington

References
M Wang et al., Nature Chem., 2010, DOI: 10.1038/nchem.610