Lipitor patent expires while familiar problems persist
The economic crisis loomed large over industry last year - and the pharma sector was no exception. Already facing pressure on pricing and market access, the growing chaos in the eurozone added to the problems. The most headline-grabbing instance of this was in Greece, where many hospitals have failed to pay for medicines, leading companies such as Roche to say they wouldn't send more until bills were paid.
But it was some of the more traditional pharma topics that had the biggest impact - patent expiries, site closures and pricing woes. At the end of November, the US patent expired on Lipitor (atorvastatin), the cholesterol lowering drug that has been the cornerstone of Pfizer's income for some years, generating sales of $12.5 billion (?8 billion) in 2010 - over 40% higher than the next highest selling drug, Sanofi's heart drug Plavix (clopidogrel). The Wyeth acquisition in 2009 bumped the company's overall sales up by about a third, meaning Lipitor will be less of a loss proportionally, but losing so much in one fell swoop was always going to have a big impact.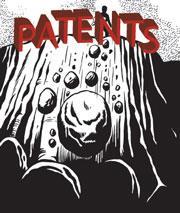 It remains to be seen quite how far Lipitor sales will fall. Ranbaxy has six months of exclusivity for generic competition. After significant problems with the Food and Drug Administration (FDA) concerning the quality of its manufacturing processes, the company is now selling product sourced from Teva, which markets generic atorvastatin in Canada. Pfizer has been scrambling to maintain market share with discounts. It has also authorised Watson to make a generic version, and is taking a cut of the profits. It may not be until the middle of 2012, when Ranbaxy's 180 days are up, that the full extent of the sales plummet will become clear.
Whatever happens with Lipitor, according to the research company EvaluatePharma, Sanofi is set to take over the number one spot in the pharma league table from Pfizer within the next year - and stay there until 2016 at least. The worst of Sanofi's patent expiries - notably Plavix - are behind it, and the Genzyme acquisition completed in 2011 increased its market share and pipeline potential.
It was a good deal for the French company - it gained a significant presence in the biotech arena - but a cautionary tale for Genzyme, of how manufacturing problems can come back to bite you. It lost significant market share for two key enzyme replacement products following a series of quality control failures, and the resulting drop in share price made it an even more attractive acquisition target.
Perennial problems
Things were otherwise relatively quiet on the acquisition front, with only a few smaller deals taking place, but the fallout from previous mergers continued, with R&D taking more cuts. Perhaps the biggest shocker was the announcement by Pfizer that it would close its UK R&D site at Sandwich in Kent. A small research group representing 650 jobs remains under the name Neusentis in Cambridge, UK - at least for the moment.
The UK has been particularly badly hit by such R&D cuts. 'In general it's been pretty torrid, but in the UK it's been something of a bloodbath,' says Kevin Bottomley, senior principal at advisory firm PharmaVentures. 'If you look at the valuation of pipelines, the R&D activities are given almost junk status, and that's patently wrong, and some of this obviously manifests itself in research being cut.'
Other bad headlines for the industry in the past year were about drug shortages - a particular issue in the US, where president Barack Obama has stepped in, ordering the FDA to investigate. The agency will demand information from suppliers about anything that might lead to a shortage and speed up its review of new sites, suppliers and process changes. 'The shortage of prescription drugs drives up costs, leaves consumers vulnerable to price gouging, and threatens our health and safety,' Obama said at the time.
Cancer drugs are a concern. Companies have hiked prices to take advantage of limited supply. Premier Healthcare Alliance - a purchasing and data-sharing network of US hospitals and healthcare providers - estimates that the grey market vendors are bumping prices up by 650% on average, and as much as 4500% in some cases - potentially costing US care providers $200 million and posing safety risks.
There were shortages in the UK as a result of a reversal in the parallel trade process, with drugs destined for UK patients being sold on to countries in mainland Europe, enabling the sellers to take a cut. The UK regulator, the Medicines and Healthcare Products Regulatory Agency (MHRA), suggested banning pharmacies without a wholesalers' licence from selling drugs on, a move that was welcomed by the industry. 'Allowing pharmacies to sell medicines abroad, where they may make an increased profit, has had a direct effect on UK medicine supplies - causing considerable anxiety and putting patients at risk,' says Stephen Whitehead, chief executive of the Association of the British Pharmaceutical Industry. 'Whilst there are still significant issues to resolve in order to prevent medicines intended for UK patients being sold abroad, [this] is a good first step to protect UK patients and the NHS.'
Debutants of 2011
While the downward trend in new drugs reaching the market continues, there were some notable approvals in areas of serious unmet medical need. Gilenya (fingolimod) from Novartis is the first oral treatment for multiple sclerosis (MS), but this has caused controversy - four months after its UK launch, the National Institute for Health and Clinical Excellence declared there was not enough evidence that the drug was cost-effective. A second oral MS treatment - cladribine from Merck KGaA - didn't even get that far. After US and EU regulators demanded further expensive and time consuming trials, the company decided to cut its losses and halt development.
There was better news for hepatitis C patients, as two new drugs appeared in very rapid succession - Victrelis (boceprevir) from Merck & Co and Incivek (telepravir) from Vertex. Both are now licensed for use in addition to the standard treatment of the antiviral drug ribavirin plus an interferon. With the new drugs, treatment time is halved from 48 weeks to 24.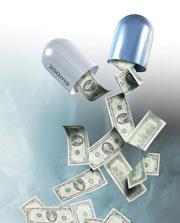 Lupus was another unmet medical need that gained a treatment, in the form of Benlysta (belimumab) from Human Genome Sciences and GlaxoSmithKline. The fully human monoclonal antibody is the first new drug to treat lupus in half a century, and analysts have predicted it could be a big seller, peaking at as much as $7 million a year.
Other new drugs included AstraZeneca's Brilinta (ticagrelor), a platelet aggregation inhibitor used to prevent clotting problems in patients with heart conditions, Zelboraf (vemurafenib) from Roche, approved in the US for the treatment of melanoma, and Pfizer's Xalkori (crizotinib), another anticancer agent designed to treat tumours that express abnormal anaplastic lymphoma kinase (ALK) genes. Both the cancer agents fit squarely in the growing 'personalised medicine' category - they won't work in all patients, but in the subset with the right genetic mutation, they can have a big impact.
It is looking increasingly likely that biosimilar products will soon reach the US market, several years since Novartis launched the first biosimilars in Europe. The FDA has been much more reluctant to give them approval, and as a result biologics manufacturers have had a free rein in the US without generic competition, regardless of the patent status of their products. The agency is currently working out how it should enact the demands of the 2010 Affordable Care Act in relation to biosimilars and is due to report back sometime in January.
Big in 2012
Amgen's fusion protein Enbrel (etanercept) is one blockbuster that won't be subject to competition for the foreseeable future. The US patent was expected to expire in 2012, and the rheumatoid arthritis treatment had been touted as one of the big biosimilar products of the future. But a long-standing US patent application has finally been approved, and it's now got protection until 2028 - it gets the full 17 years from approval because the application was filed way back in 1995, before the rules changed to prevent just this sort of situation. This leaves a hole in Merck & Co's biosimilar strategy - the drug was one of a group of products Merck had been working on, having signed a costly deal in June with Hanwha Chemical of South Korea for its late-stage biosimilar etanercept.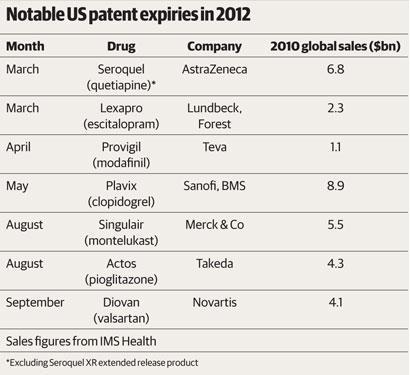 The coming year is going to be another intriguing one for the industry, whether or not biosimilars happen in the US. Lipitor marks perhaps the peak of the much-touted patent cliff, with many big patent expiries already behind us. But there are more to come in 2012 (see table). 'It's a year in transition, because with Lipitor going off patent the patent cliff is here and has happened,' Bottomley says. 'It's like a car crash - sometimes the anticipation is worse than the reality, you know you're going to crash and you brace yourself, but once it's happened you can move on. I think we're beginning to get into that phase now.'
Sarah Houlton
Interesting? Spread the word using the 'tools' menu on the left.
Also of interest

02 February 2011
Challenging industry climate looks set to claim majority of 2400 pharma jobs at renowned facility in Sandwich in Kent

17 February 2011
Sanofi-Aventis wins over Genzyme board with $1.5 billion increase to August 2010 bid

21 October 2011
US drug maker divides the firm into two parts as part of a rebalancing strategy

02 November 2011
Obama calls on FDA and Justice Department to clamp down on pharmaceutical industry after drug shortages triple