Swine flu may be causing suffering around the world, but pharma firms seem to be profiting from the pandemic
As swine flu cases continue to erupt around the globe, the latest financial results from pharmaceutical companies Roche and GlaxoSmithKline (GSK) reveal that sales of their antiviral drugs have soared. However, the big windfall for GSK, and other vaccine producers such as Novartis and Sanofi-Aventis, will come when their influenza A H1N1 vaccine is ready to ship.
Sales of Roche's antiviral drug Tamiflu during the first six months of the year doubled to just over SF1 billion (?571 million), while sales of GSK's Relenza increased by a factor of eight to ?282 million during the same period.
Switzerland-based Roche's increased sales of Tamiflu contributed almost a third of its 9 per cent sales growth for the first half of the year, which saw sales reach SF24 billion. The majority of its sales growth was driven by its cancer therapy portfolio - most notably anticancer therapy Avastin, sales of which grew 29 per cent to SF3 billion.
Roche is not active in the vaccine field, preferring instead to focus on the therapeutics and diagnostic markets. But its March 2009 takeover of biotech firm Genentech stand it in a good position to keep growing - especially in the cancer therapeutics field. And although the purchase did eat into net profits, operating profits for the first six months of the year grew 41 per cent to SF6.8 billion.
Booster shot
With the US having now ordered 195 million doses of swine flu vaccine and 120 doses of adjuvant that increases vaccine potency, those in the race to produce a vaccine will be able to offset the general fall in US drug sales - the world's largest pharmaceutical market.
The boost to sales could not have come at a better time for GSK, the UK's largest drug maker, as its total sales have been slipping due to increased competition from generics manufacturers. However, the weakness of sterling more than offset the 15 per cent fall in second quarter US sales - by far the company's largest end market - and worldwide sales actually grew 15 per cent to ?6.7 billion, despite sales at constant exchange rates slipping 2 per cent.
Andrew Witty, chief executive of GSK, said that the company has invested more than $2 billion (?1.2 billion) to develop and manufacture vaccines and influenza treatments and will be tripling its maximum production capacity for Relenza to 60 million courses a year.
The company is expecting to start shipping its swine flu vaccine in September, which could bring in as much as ?1 billion in extra revenue for the company. It has also announced plans to commercialise a face mask that protects against flu virus particles, and is collaborating with UK diagnostics firm Enigma to commercialise a test that can identify flu viruses within an hour.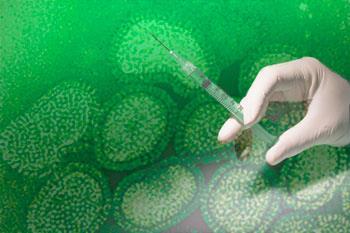 'Last month, we started production of an H1N1 adjuvanted vaccine and we are on track to meet the orders placed by many governments and the WHO for the vaccine and our novel adjuvant,' says Witty. 'To date we have contracts in place to supply 195 million doses of the vaccine. Discussions with over 50 governments are ongoing, with many at advanced stages, and I therefore expect further significant orders.'
Despite the increased value of sales, GSK's second quarter operating profits fell 6 per cent to ?2.3 billion compared to the same period last year, although the company said it was making good progress on its cost reduction programme, which had saved the firm around ?900 million already this year.
Novartis will also be revelling in the promise of increased revenues from swine flu vaccine sales as it saw its second quarter sales drop 2 per cent to $10.5 billion and its operating profits fall 4 per cent to $2.3 billion. However, it was the first to announce that it had successfully produced a swine flu vaccine (due to its novel cell-based antigen production method), and will hope this will help it gain a march on its competitors. It has already been awarded two contracts from the US government worth a total of $970 million.
Sanofi-Aventis and AstraZeneca are yet to release there latest financial results, but will no doubt be expecting a similar revenue boost from sales of their swine flu vaccines. However, AstraZeneca's plans are being hampered, not by the antigen yield problems faced by other vaccine makers, but by a shortage of the nasal spray delivery devices used to squirt the vaccine into the nose.

Matt Wilkinson
Enjoy this story? Spread the word using the 'tools' menu on the left.