Pharmaceutical co-crystals of carbamazepine have been created using desktop inkjet printer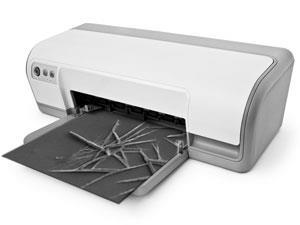 A group of UK chemists has used a desktop inkjet printer to prepare a metastable form of the anti-epileptic drug carbamazepine. Co-crystals have been prepared by first depositing very small droplets of template solution followed by droplets of the drug solution, which leads to rapid evaporation and crystallisation.
1
Simon Gaisford
of UCL School of Pharmacy, London, who lead the project, told Chemistry World that this polymorph has only been produced previously by layering it molecule by molecule onto a template crystal using vapour deposition.
2
'Desktop inkjet printers offer amazing control of droplet position in order to produce photographic images,' says Gaisford. 'So in this instance the technology can really be considered to be more advanced than is needed for crystal templating, although it is evident that the smaller the droplet size and printing resolution the better the potential of the technique.'
Pharmaceutical co-crystals are a relatively new concept that allow two compounds (both drugs, or a drug with an excipient) to be co-formulated in a stable solid form. Often, the properties of the co-crystal are better than either of the individual components alone ­­– for instance, increased long-term stability, faster dissolution or higher bioavailability. Co-crystals show huge potential in drug development, but waiting for compounds to crystallise for screening purposes can take weeks at a time.
Commenting on Gainsford's work, Victoria Kett, from Queen's University of Belfast, Northern Ireland, remarks 'This is the first time that a thermal inkjet printer has been used to produce co-crystals. The low cost and simplicity of the approach is extremely attractive. Further, by offering the possibility to design the print output, the approach should lend itself to techniques that are based on, for example, a 96-well plate, or that require specific amounts of material without wastage.'
Both Kett and Gainsford are realistic about challenges ahead. Co-crystal systems that require solvents other than water (or mixtures of ethanol/water) may interact with the plastic cartridges, and it may be hard to control stoichiometry. Gaisford admits that some experimental factors are difficult to regulate, such as solution or stage temperature, and the team hopes to develop a bespoke inkjet system capable of exploring and controlling these experimental factors.
References
1. A. B. M. Buanz, R. Telford, I. J. Scowen and S. Gaisford, CrystEngComm, 2013, 15, 1031. DOI 10.1039/c2ce26519b
2. A. J. Florence et al., Chem. Commun., 2011, 47, 7074–7076