New government see cooperation between science and industry as way to reindustrialise the country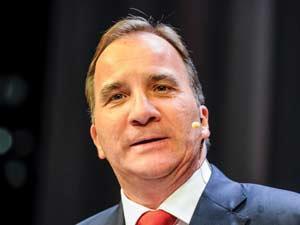 Sweden's Social Democrat leader Stefan Löfven has emerged as the victor in the recent general elections. After lengthy negotiations, Löfven has formed a minority government with the Green Party and together they are promising greater collaboration between industry and research to 'reindustrialise' Sweden, as well as long-term planning for science. However, the new government will have difficulty passing bills as a far right anti-immigration party holds the balance of power.
Helene Hellmark Knutsson, previously a Stockholm county councillor responsible for healthcare and public transport, has been appointed the minister for higher education and research. Her appointment has already drawn criticism for her inexperience in research policy and unfamiliarity with higher education. Knutsson tells Chemistry World that she wants Sweden to better coordinate research with the needs of the industry, and more government funding will provide better incentives for corporate R&D.
As part of the new government's plans, an innovation council will be set up to unite government, research and industry in order to coordinate efforts to promote Swedish industry. Löfven has promised to create an industry tsar to oversee this collaboration. Details are still sketchy, but Björn Nilsson, president of the Royal Swedish Academy of Engineering Sciences, says that if the new council works in a similar way to the UK's Council for Science and Technology it could do some good for Swedish research.
There are also plans to address gender disparity in Swedish universities. Presently, around 60% of students in Sweden are women. However, this has not translated into a similar number of female university researchers, where women make up 50% of academics. In chemistry, women account for nearly 60% of researchers. The new government plans to provide a funding bonus of SEK100 million (£8.5 million) to universities that hire more female researchers.
First steps
Getting the research budget through parliament is just the first step. Thomas Strand, MP and spokesman for the Social Democrats on research policy, says the government intends to form a broad alliance to plan science funding for the next 10 years. These plans would see a unified system of validation for foreign education and further improvements to researchers' career paths.
The budget sees increased funding for clinical research, an additional 5000 student admissions and additional funding for the humanities, social sciences and educational sciences.The European Spallation Source, currently under construction in Lund, will receive a starting grant of SEK700 milion. The strategic areas of the research councils will be mostly unchanged, with greater emphasis on climate studies. In total, government funding for higher education is over SEK40 billion, with an additional SEK7 billion devoted solely to research.

Compared to the UK, Swedish research has not been hit as hard by the economic downturn. Funding has risen, says Mats Benner, professor of science policy at Lund University School of Economics and Management, Sweden, but employment conditions are still problematic. Swedish researchers find themselves in a system that lacks a clear career path and many are on short-term contracts, Benner points out.
Sven Lidin, professor of polymer and materials chemistry at Lund university, Sweden, sees similar structural problems. Researchers are hired on the basis of the funding they can bring in and not solely on the merit of their research, he says. As a result funding can be spread thinly and lab resources can be scarce. Lidin also points out that there are more researchers vying for posts than there are jobs available and this cannot be easily addressed in a government budget.
Helena Grennberg, chairman of the Swedish Chemical Society and professor of organic chemistry at Uppsala University, Sweden, says that funding has not kept pace with inflation. She also worries about the Green Party's negative view of chemistry, and that this will limit research and education on account of the perceived risks of chemistry and chemicals.