A sensor to detect toxins produced by algae in drinking water
A green and simple method to make a sensor to detect one of the most toxic cyanotoxins, microcystin-LR, has been devised by scientists from China. Cyanotoxins are produced by blue-green algae and can contaminate drinking water.
In 1998 the World Health Organisation (WHO) set up a provisional guideline limit of 1 mg L-1 for microcystin-LR in drinking water so detecting it in the environment is important.
Huangxian Ju and colleagues from Nanjing University made their sensor to detect microcystin-LR by assembling gold nanoparticles on nitrogen-doped carbon nanotubes. Nitrogen-doped carbon nanotubes are less toxic to cells and have better biocompatibility than un-doped carbon nanotubes, making them more suitable for use in biosensors. The nitrogen incorporated in the nanotubes also provides an active site to anchor gold nanoparticles onto.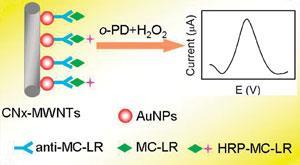 The team immobilised an antibody for microcystin-LR on their nanosensor and used it to detect the cyanotoxin in water samples. They found that microcystin-LR could be detected at levels much lower than the limit set out in the WHO guidelines.
Ju explains that although several methods can detect the presence of microcystin-LR, they are time-consuming, need expensive equipment and advanced technical expertise. Ju's nanocomposite is cheap to make and shows a wide concentration range, low detection limit, good reproducibility and could successfully detect microcystin-LR in polluted water samples, said the researchers.
'This system is more biocompatible than existing systems, so leads to enhanced sensitivity for microcystin-LR immunosensing,' says Dianping Tang, an expert in electrochemical immunoassay technologies from Fuzhou University in China.
Ju hopes to immobilise different metal nanoparticles onto the nitrogen-doped carbon nanotubes to make metal nanoparticle/nanotube composites as biocompatible platforms for biosensing and biocatalysis.
Rachel Cooper
Link to journal article
In situ assembly of gold nanoparticles on nitrogen-doped carbon nanotubes for sensitive immunosensing of microcystin-LRJing Zhang, Jianping Lei, Rong Pan, Chuan Leng, Zheng Hu and Huangxian Ju,?Chem. Commun., 2011, 47, 668DOI:10.1039/c0cc04198j