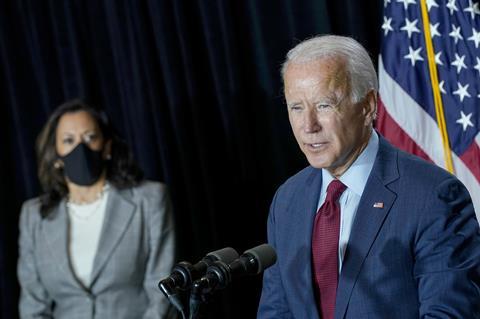 Eighty-one US science Nobel laureates have released a letter endorsing Democrat Joe Biden for president over the incumbent Donald Trump ahead of the 3 November election, including 24 chemistry laureates. Among the signatories are Peter Agre, Sidney Altman, Frances Arnold, Fraser Stoddart – who has dual American and British citizenship – as well as the most recent US chemistry Nobel recipients John Goodenough and Stanley Whittingham. Congressman Bill Foster, who is the sole PhD physicist in Congress, helped to organise the letter. Previously, 70 Nobel prize winners endorsed Hillary Clinton in 2016, and 76 Nobel laureates backed Barack Obama in 2008.
'At no time in our nation's history has there been a greater need for our leaders to appreciate the value of science in formulating public policy,' the Nobel prize winners wrote in the open letter released today. 'During his long record of public service, Joe Biden has consistently demonstrated his willingness to listen to experts, his understanding of the value of international collaboration in research and his respect for the contribution that immigrants make to the intellectual life of our country.'
Harold Varmus, who served as director of the National Institutes of Health and won the 1989 Nobel prize in medicine, said of Biden: 'His sensible, determined approach to building a cancer research initiative after his son's death was inspiring. It illustrates the kind of thoughtful leadership that we need to tackle the current global pandemic.' Roger Kornberg, the 2006 chemistry Nobel laureate, said that the multiple crises facing the US, including one of misinformation, 'requires a leader with profound admiration for science and truth'.

Rebecca became the US Correspondent for Chemistry World in September 2014, based out of Washington, DC, after writing for the magazine on a freelance basis since 2007.
View full profile