Final stages of Reach negotiations sees lobbying frenzy
As the long-running saga to get a new regulatory framework for the chemical industry onto the European statute book enters another key chapter, a frenzy of lobbying is underway.
The registration, evaluation and authorisation of chemicals (Reach) legislation is due to receive its second reading in the European Parliament on 24 October, and the parliament's environment committee has been given the responsibility of thrashing out the fine detail of the proposals.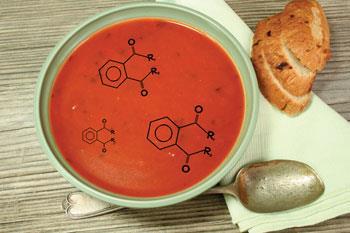 Lobbying reached new heights with the release of a report by the environmental group WWF on 21 September, which detailed the detection of chemical contaminants in a range of food products from across Europe. The study, carried out by an independent research laboratory in The Netherlands, showed the presence of low concentrations - typically nanograms per 100 g of sample - of compounds such as polychlorinated biphenyls and brominated flame retardants in products ranging from bread to fish.
Andy Smith of the Medical Research Council's toxicology unit at the University of Leicester, UK, was unimpressed with the WWF report. 'The presence of small concentrations of these chemicals is well documented and in the public arena,' he told Chemistry World. 'These types of analyses are being done all the time by government bodies such as the Food Standards Agency (FSA).'
'The chemical traces found were within current safety levels, a point acknowledged by the FSA,' added Steve Elliot, chief executive of the Chemical Industries Association.
Smith criticised the fact that only a single sample of each food product was tested in the WWF research. 'If the research has not been done robustly then it is essentially anecdotal and difficult to take seriously. These are important and emotive issues, but they need to be backed up by rigorous science.'
Poor evidence
Nevertheless the report, accompanied by a press release entitled 'Waiter, there's a phthalate in my soup!', gained a large amount of media coverage across Europe (see Comment).
While the WWF concedes that there is little evidence that the concentrations of the compounds are likely to result in direct hazard to human health, it suggests that over time the additive effects of a range of chemicals could be damaging to health. 'As far as I'm aware, there's no evidence that mixtures of these compounds can act synergistically,' responded Smith, 'although there is work currently underway to look into this.'
'It is easy to speculate that some combination of factors might be a problem over a long period of time,' added Colin Humphris, executive director of science and research at the European Chemical Industry Council, Cefic.'The truth is that we don't know.'
On the campaign trail
WWF's motivation is clear enough. 'WWF stated clearly in a BBC interview that they released their report as part of their political campaign for stronger chemicals regulation which coincides with the current second reading of Reach at the European Parliament,' Humphris told Chemistry World.
He also points out that while WWF's principle concern seems to be about various chemicals working in combination, 'Reach is about single substances and would not address cocktails'.
Cefic's European Brominated Flame Retardant Industry Panel adds that despite WWF's claims, the only traces of brominated flame retardant they found were from Penta-BDE, which has been banned in the EU since 2004, at levels considered safe for human consumption by the FSA.
The report's release illustrates how MEPs must deal with vast quantities of information being thrown at them from every direction. 'The lobbying has been heavy and it has been going on for a few years now,' said Conservative MEP John Bowis, a member of the EU parliament's environment committee. 'It tends towards overkill as you approach the first reading, and the pace and heat has risen again in the run-up to the second reading,' he told Chemistry World.
But Bowis sees this as an important part of the political process in Europe. 'Lobbying is not only useful, it can be essential,' he said.
As one Brussels insider put it, 'most members of the committee will rely to a degree on information that is provided by lobbyists, so lobbying does have an influence. On Reach, some of the NGOs [non-governmental organisations] have been especially impressive with the way that they have presented their arguments.'
Simon Hadlington