After winning this year's Creativity in Industry award from the RSC, Patrick Mulqueen reveals his approach to turning fresh ideas into commercial reality
After winning this year's Creativity in Industry award from the RSC, Patrick Mulqueen reveals his approach to turning fresh ideas into commercial reality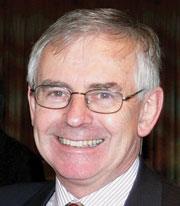 Companies need products that add value. Products protected by intellectual property entitlements, such as patents, are even better. Yet it's always a challenge to find new ideas, take them forward and turn them into saleable products.
Within any organisation, there will be people who have the great ideas, and people who can take product concepts and deliver them. So it's vital to construct multi-disciplinary teams that have a balance of these skills in order to deliver all aspects of a project. After all, most patents and patent applications have many different inventors. Sometimes it is even possible to find individuals with several of those required skills - but that is increasingly rare.
Much has been written about the need for employers to create an innovative atmosphere in the workplace. This might be achieved by improving the working environment, or employees' facilities. But it is also about fostering a culture that encourages risk-taking, giving people the 'freedom to fail'. A 'can-do' attitude within a company, allied to challenging targets that thrill researchers, can generate genuine excitement about a project.
More importantly, how can we as researchers prepare ourselves to be more innovative, more creative? What skills do we need to be creative and innovative?
Good scientific training and a rigorous approach to research is fundamental, as is being prepared to change your mind in the face of fresh scientific data.
You should keep going after the challenging targets, using persistence or even stubbornness to make things happen. Never be afraid to ask awkward questions that could help to move projects forward, and be prepared to get stuck in and do it yourself, whatever level you are at in an organisation.
Communication is an essential part of research, and it's crucial that you sell your vision upwards to senior managers, as well as to your peers, if a new technical direction is to be successful. Researchers should also nurture the ability to make connections across disciplines and within technical areas, as the ability to bring loose threads of information and knowledge together and draw sensible conclusions can move projects in new directions.
Try to understand the business needs of a project, while being aware that those needs can change rapidly, and be flexible enough to adapt when those needs change. You should also learn how to deal with the disappointment when you've just solved that difficult problem, only to find that they've changed their minds and don't want it any more.
You should have a vision of what might be achieved, no matter how difficult or intangible, and even try envisioning the impossible.
A bit of luck always helps, but you can make your own luck if you have the appropriate technical experiences to be able to see potential solutions to a problem, and then move forward to solve it. And simply having enthusiasm for the research and confidence that there will be a technical solution can improve both your own work, and that of your peers and junior staff.
Remember that it helps to have a continual, career-long exposure to both business and customers, who ultimately dictate acceptance of a technology. And that the product must be manufactured in a safe and sensible manner, work without a problem, and deliver the promised effect at the expected cost to the company.
Your company's image is on the line with every product you deliver. If you get it right, you will have great products from exciting and excited people.
Patrick Mulqueen's career as a formulation chemist in the crop protection industry has resulted in the launch of over 70 products. Formerly of Dow AgroSciences, he now works for Swiss-based crop protection and biotechnology company, Syngenta.