'Cooking is more than just science - or rather, it's something completely different,' says Ferran Adrià. He talks to Bibiana Campos-Seijo
'Cooking is more than just science - or rather, it's something completely different,' says Ferran Adri?. He talks to Bibiana Campos-Seijo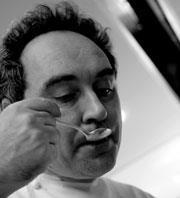 How did you decide to become a chef?
It happened by chance. I wanted to buy myself a holiday in Ibiza so I started work in a restaurant washing dishes. After that, everything just happened.
What is the difference between molecular cooking and molecular gastronomy?
When people refer to research and science in relation to cooking, the term 'molecular gastronomy' often crops up. We believe that molecular gastronomy is not cooking, but a term used to define the dialogue between scientists and chefs. One can do a scientific study on the chemical reactions and the physics of, for example, low-temperature roasting. The diner will not be aware that the resulting dish is the result of a specific scientific quest, but it refers to the dialogue between science and cooking.
The media insist in linking you with molecular gastronomy and cite you as a pioneer. However, you don't identify yourself with that title.
It all started after a stay in Biarritz in 1995, when we were taking part in a course at the Escoffier Foundation. There we heard that the French scientist Herv? This, one of the first representatives of molecular gastronomy, was going to give a series of lectures on the chemistry and physics of cooking so we decided to attend. In the following years we gradually started to explore science but it was not until very recently that some of the concepts and techniques we have been following have been supported scientifically.
In any case, you are the pioneer of several different methods and procedures, such as 'spherification'. How do these ideas come about?
All sorts of things happen during the creative process. Inspiration comes from unknown places. In any case, it is paramount to have a well-implemented creative infrastructure so that any ideas that arise can be sufficiently explored and exploited.
Previously you have stated that your creations are the result of observation and culinary research. Do you think that the creative process in the kitchen has anything in common with the scientific method?
Of course! Although there are significant differences, the scientific method is a great support for gastronomy. However, the dialogue between gastronomy and science has been far more difficult than I could have imagined.
In 1998 your restaurant El Bulli opened a research lab. Does it operate like a normal lab?
In terms of the operating process, the members of the creativity team are five or six people led by Oriol Castro, Eduard Xatruch, Mateu Casa?as and myself. This team is subdivided into three research teams, each of which follows several lines of investigation. From this research, a team discussion will decide which lines must have priority over others. After that, the recipes are finalised at El Bulli during the first two months of the season. In summary, we have an idea, we research and develop it and, if it works, we follow it through to the end.
How would you describe your relationship with the scientific world?
It is a very exciting world from which I learn a lot. There was a time when I realised that had I had some scientific training or knowledge, I could do so many more things. But I needed to be pragmatic. It was not until 2003 that I incorporated a scientific department into the Taller de El Bulli - El Bulli's lab - with Pere Castells.
What is the Fundaci?n Alicia and what is your involvement with this organisation?
Research and raising awareness are the main objectives of Alicia. This organisation strives to become a medium through which to promote healthy eating and improve quality of life, with particular attention to those that require special diets, such as coeliacs, diabetics etc.
As a result of your collaboration with the Fundaci?n Alicia, a book - L?xico cient?fico gastron?mico (Scientific gastronomic guide) - has been published. What does it hope to achieve?
It tries to answer those questions that chefs frequently ask themselves. It is a tool that brings chefs and cooking aficionados closer to those terms that may help them understand the nature of food, that explain why and how cookery reactions take place and which products can make their work easier using simple and comprehensible language.
After a life dedicated to cooking, what legacy would you like to leave?
Honesty.