Chemistry World staff hard at work attending and reporting on as many events and conferences as humanly possible
June was an extremely busy month. There was a lot going on and the Chemistry World staff were hard at work attending and reporting on as many events and conferences as humanly possible.
The month started with the Energy materials to combat climate change meeting at the Royal Society in London, UK - two days packed with discussions about solar cells, batteries, fuel cells, nuclear power. The speakers were top class and the audience were soaking up every word. In spite of the differences of opinion, the mood in the room was surprisingly positive. The topics were extremely complex (we're talking not just technological but also social and political challenges) and, to add to this, we are in the middle of one of the most significant financial crises of recent years. Nevertheless, there seemed to be consensus that scientists should work together to turn the energy challenge into an opportunity. To achieve this, three-way dialogue between scientists, politicians and the public was deemed essential.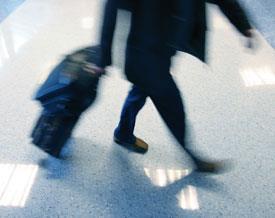 This was followed by the 11th Erbi Biopartnering event in Cambridge, UK. Aimed at executives from the life science and healthcare industries, this year the meeting also covered the medtech sector.
Again the mood was fairly upbeat. As Ian Oliver, senior manager of Ernst & Young, very competently summed up, 'the financing drought is across the board and affects all industries' - but 'the biotech industry is no stranger to funding crises,' and is expected to once more pull through. Two areas were even tipped for growth - personalised medicine and combination products, with the latter described as 'a tremendous opportunity and the potential for investment is great.' [If anybody makes a fortune from this advice, please can I have 3 per cent for passing it on?]
And finally to ChemSpec Europe 2009, which this year took place in lovely (and very hot!) Barcelona, Spain. With over 5000 attendees and approximately 400 exhibitors, the show boasted a very international delegate list, with Chinese companies occupying about 30 per cent of the exhibition floor. During the event, the RSC's speciality chemicals group organised a symposium titled Catalysts for change - in which Robin Bedford (University of Bristol, UK) presented the outstanding Beyond palladium - the new Iron Age, which explored the potential substitution of the expensive Pd with Fe in a series of coupling reactions.
The Reach corner was also extremely busy and a lot of good advice was given by different consultancies and expert organisations, in particular about the formation and management of SIEFS (see Chemistry World, June 2009, p8). Again, attendees were encouraged to think positively, act proactively and open communication channels, even when, for example, some SIEFS involve hundreds of companies.
One would think that these events should be enough to keep the Chemistry World team busy. Far from it: Nina has gone to Lindau, Germany, to attend the Nobel Laureates meeting (which this year is dedicated to chemistry); Phillip is just back from Paris, France, where he's been able to meet some of his chemistry heroes at the 10th Tetrahedron Symposium; and Anna travelled to Brussels, Belgium, to the Green Week conference to listen to, among others, the president of the European Commission Jos? Manuel Barroso discussing climate change issues in preparation for the UN climate change conference in December.
So keep an eye on our blog for personal accounts of these events. And if you have attended any of these meetings, why not let us know your impressions and opinions - feel free to create a blog entry or start a discussion on any of our social networking sites.
Bibiana Campos-Seijo, editor