The results of the UK's 2008 research assessment exercise
The results of the UK's 2008 research assessment exercise (RAE) - a national audit of university research quality - were announced late last year, and they were good news for the country's chemistry departments. Chemistry's peer review panel saw higher quality research this time than in the previous 2001 exercise. Indeed, chemistry has done so well that its average research quality is now reckoned the same as physics, which was placed well ahead seven years ago.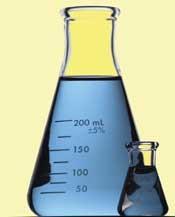 Better grades do not directly secure chemistry a greater share of the ?1.5 billion government distributes every year as a result of the RAE. Each subject attracts funds proportional to total staff numbers, not research quality. But they do mean that an individual chemistry department can point to a relatively high quality rating to ensure that its university - which is handed a chunk of RAE money covering all subjects - chooses to support it fully.
How has this pleasing improvement come about? In 1996, 62 institutions entered the chemistry RAE competition; in 2001 only 45, and in the latest RAE, just 31. Smaller departments have gradually dropped away. Some have merged to gain strength - such as the 'EaStCHEM' combination of Edinburgh and St Andrews. Many have been absorbed into larger multidisciplinary entities or chosen another unit of assessment (pharmacy, engineering) to enter. And some, such as King's College London and Exeter, have folded completely. Total staff numbers have fallen only slightly - so over the last decade, academic chemists in the UK have huddled together into fewer, larger research departments.
This trend has been supported by UK government policy to concentrate cash only to the departments turning out the highest-quality research - which in chemistry, according to the judgements of successive RAEs, are always the largest ones.
Critical mass
That larger departments should produce higher-quality chemistry is not surprising. Core areas like organic synthesis, for example, are extremely resource-intensive, and can only be maintained by a critical mass of researchers and laboratory equipment, which a small department will struggle to support.
With limited funds, smaller departments have recognised that they can't be good at everything. Instead, they have focused on one or two niche areas (not organic synthesis), encouraged younger researchers, and collaborated with other sciences such as biology, materials or environmental science - which can bring significant advantages in the shape of shared equipment.
This year, it looks as though such strategies may finally pay off. The 2008 RAE shows that excellence is sprinkled around a wide range of departments, not just the largest. This surprising judgement has come about because the RAE ranked departments using a more finely-grained system of assessment than before. Its 'quality profiles' indicate that even small chemistry departments produce some research that is world-leading - but which in previous RAEs was probably swallowed up by a coarse single grade ranking system.
Across the board, larger university departments are now worrying that more money than usual will be diverted away from the traditional elite in the effort to recognise this widespread excellence. How the RAE results translate into cash will not be clear until March. But smaller chemistry departments can dare to hope that they have played the assessment game well enough to gain a greater share of the available funding.
Richard Van Noorden, acting editor