We've decided to start 2010 off with a bang!
We've decided to start 2010 off with a bang! Not only do we have an award, we also have a new treat for our online readers.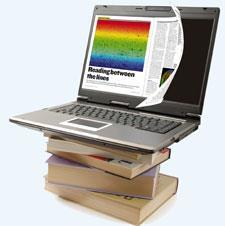 The competition for the Chemistry World Entrepreneur of the Year award is heating up and the winner will soon be decided. The prize recognises an individual's contribution to the commercialisation of research, and as well as the gong, the winner gets ?4000 and will be featured in an upcoming issue ofChemistry World. Nominations close on 31 January, so there's still time for last-minute entries - you can nominate a friend, colleague or even put your own name forward. More details about the award and how to enter can be found online.
Those of you that use the Chemistry World website regularly may have noticed that we recently launched a new electronic version of the magazine. It looks exactly the same as the print version, you can browse and flip through the pages as you would with the normal magazine, but it has the added benefits of a search function, printable pages, easy email links, space for notes and annotations, and links to expanded versions of articles that bear the symbol:
To access the digital magazine, go to the website and log on using your RSC membership details. We'd be keen to hear any comments or suggestions you may have.
So the year is now over, and we look ahead to 2010. But before we say farewell to 2009, I'd like to say some brief thank yous. Firstly, I'd like to thank our editorial and international advisory board (EB and IAB, respectively) members. They do a sterling job throughout the year and their input, support and advice are invaluable. Indeed, they are an extremely talented and highly successful bunch of chemists whose cutting edge research will be familiar to many readers.
In fact, flick forward to page 56, and you'll see the fascinating work that IAB member Fraser Stoddart and EB member Ben Feringa have been doing with molecular machines in an insightful article by Philip Ball. IAB member Chad Mirkin was also recently named as one of Thomson Reuters' top ten chemists, judged by citations per paper over the past ten years. Warm congratulations to him as well.
Secondly, I would like to thank the Chemistry World editorial, sales and production teams, who with their commitment and hard work make Chemistry World possible throughout the year.
And of course, I'm sure the team would join me in thanking all our readers; you are the force behind Chemistry World and it is your continued support that motivates us. Please keep reading; without you, we are nothing.
Best wishes for 2010.
Bibiana Campos Seijo, editor