The UK's first cosmonaut Helen Sharman was honoured at a House of Commons reception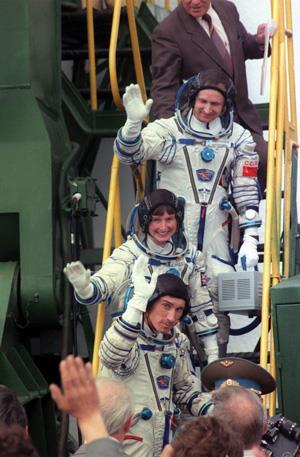 Last month Helen Sharman, the UK's first cosmonaut, attended a reception in her honour at the House of Commons. The reception was hosted by Donald Anderson MP and Dr Michael Clark MP in behalf of the RSC, and Sir Michael Marshall MP on behalf of the Parliamentary Space Committee.
Before the reception Sharman said that she was very pleased at the interest shown by the science community since her return, especially because '70-80 per cent of my time on the Mir station was involved with science'.
During the reception Sharman (already a GRSC) was presented with her certificate as a full Member of the RSC. The Applications Committee approved the elevation in April, while Sharman was on Mir, making her the first person to become a Member of the Society while not on Earth.
Chemistry in Britain, July 1991
Ed. In 1993 Sharman became an honorary Fellow of the RSC. Following her Mir mission, she spent eight years communicating science to the public through radio and television programmes, and through publications, including her autobiography, Seize the moment, in 1993. Following a few years at the National Physical Laboratory, Sharman became Operations Manager for the Department of Chemistry at Imperial College London in 2015.